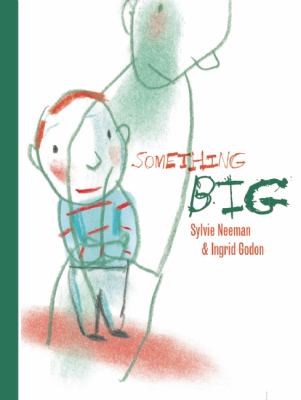 Something big
by Sylvie Neeman & Ingrid Godon ; translated by Claudia Zoe Bedrick.
School Library Journal Gr 1-3-This Swiss import uses minimalist cartoon sketches in thick-line greens, reds, and blues to depict a conversation between a "little one" and a "big one," the former frustrated by a lack of the ability to do "something big." Continued dialogue during a walk to the sea reveals concern for resolution as both characters' thoughts are revealed. The little one discovers a small fish caught in a tidal pool and releases it back to the sea, whereupon the big one says, "I think you just did something big." Though creating an opportunity to converse on ways young people can positively affect the world, the narrative's pace and understated tone may be too sophisticated for the intended audience.-Gay Lynn Van Vleck, Henrico County Library, Glen Allen, VA (c) Copyright 2013. Library Journals LLC, a wholly owned subsidiary of Media Source, Inc. No redistribution permitted.
(c) Copyright Library Journals LLC, a wholly owned subsidiary of Media Source, Inc. No redistribution permitted.
Publishers Weekly Midway through this knowing exchange between a parent and child (who are referred to throughout as "the big one" and "the little one"), Neeman gets to the heart of the story's paradox: "You want to do something big but it's hard because you're still little, isn't that right?" the boy's father asks. The father tries to tease out what his child has in mind, but they aren't quite connecting. "I said it would be something big like a lighthouse... but I never said for sure it would be a lighthouse by the ocean," complains the boy. "Oh, I get it," replies his father, "even though he no longer gets anything." Illustrating in childlike, crayony lines, Godon is entirely attuned to the boy's frustration, her images jumbling together in much the same way one's thoughts entangle when trying to work through a problem. When the two walk to the ocean together, the horizon line cuts through their bodies, which overlap with each other's, too. "Big" and "little" are a matter of perspective, readers will understand, as Neeman and Godon elevate an intimate, everyday moment into something significant. Ages 4-8. (Sept.) (c) Copyright PWxyz, LLC. All rights reserved.
(c) Copyright PWxyz, LLC. All rights reserved