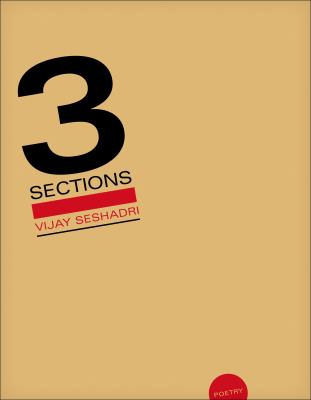 3 Sections: Poems
by Vijay Seshadri
Publishers Weekly Deft yet direct, often funny and yet alert to existential quandaries, this third outing from regular New Yorker contributor Seshadri (The Long Meadow) could be the most versatile, as well as one of the most successful, volumes this year. The fluid, disarming short poems take in modern consumer culture and age-old angst, Seshadri's South Asian heritage, his contemporary New York ("the more punishing blocks of Park Avenue"), and our surveillance society, in which nobody really knows anyone, yet anybody can find out where you are: "Why I wanted to escape experience is nobody's business but my own,/ but I always believed I could." Long chatty lines sit beside tight rhymed stanzas, bleakness beside wit ("Purgatory, the Sequel"), and all of it introduces the two long works that comprise the other two sections of this three-part work. One contains Seshadri's expansive prose essay about an Alaskan fishing boat, at "the great intersection of sea and sky. in the gloom at the edge of the world." Even more remarkable is the lengthy "Personal Essay" in verse, a meditation on what it could mean to be personal, to be one person and not another, in this crowded age: Seshadri imagines himself as "the image of/ nothing, a face astonished by itself in the mirror/ (that couldn't be me, could it?)." Some readers will praise him for his light touch; others, for the depth, and the literary history, that he brings to his present-day task-but praise him they should. (Sept.) (c) Copyright PWxyz, LLC. All rights reserved.
(c) Copyright PWxyz, LLC. All rights reserved
Book list You understand what I mean, you others, / or understand at least how shocking the obvious can be / if you're ready for it. Sounding like a commandment, this assertion exemplifies the virtues of Seshadri's third book. Namely, looking hard at things and situations, long sentences constructed of numerous clauses, lines of irregular length, many poems alike in appearance and style, and irony dripping like poison. A few of the poems do not survive the infusion, reading as precious instead of delicate. There is a marvelous prose interlude, Pacific Fishes of Canada, about a misguided but nonetheless formative adventure on a trawler in the Bering Sea. If the whole book were this pure and anguished, this would be an indispensable collection. The narrative poem Personal Essay is the longest piece in the book. In it, Seshadri, winner of the James Laughlin Award, risks everything, but cuts perilously close to mere effect. He is so talented, so able, and writes with such panache, Seshadri is in danger of a weakness few contemporary poets even approach.--Autrey, Michael Copyright 2010 Booklist
From Booklist, Copyright © American Library Association. Used with permission.