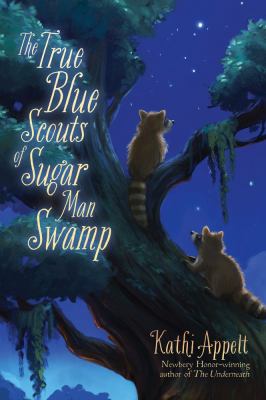 The true blue scouts of Sugar Man Swamp
by Kathi Appelt.
Book list *Starred Review* Swamps provide great fodder for stories, and Newbery Honor Award-winning Appelt uses every inch of the Sugar Man Swamp and its inhabitants to tell her engaging tale. At the helm of the complex ecosystem is the Sugar Man, a gigantic, fur-covered cousin to the yeti and bigfoot, who rules benevolently but has been asleep for the past 60 years. He is to be woken, preferably with an offering of sugarcane, only in the case of an emergency. Bingo and J'Miah, two raccoons who live in an abandoned DeSoto car, are the official Sugar Man Swamp scouts, and it's their job to alert him to impending danger. Meanwhile, on the edge of the Bayou Tourterelle, a 12-year-old boy named Chap has just lost his beloved grandfather, and he and his mother must raise a whole boatload of cash making sugar pies to prevent Sonny Boy Beaucoup and an alligator wrestler from developing a theme park on their home turf. On top of all that, there are wild hogs headed straight for the swamp rumble, rumble, rumble! This delicious, richly detailed story is told in 104 short chapters, which swing the plot beautifully from one thread to the next and keep the action moving. Appelt's omniscient third-person narration exudes folksy, homespun warmth while also feeling fresh and funny. A satisfying romp with plenty of memorable characters to root for and some to boo. Illustrations to come.--Kelley, Ann Copyright 2010 Booklist
From Booklist, Copyright © American Library Association. Used with permission.
Publishers Weekly Told from the perspectives of animals and humans, Appelt's (The Underneath) rollicking tall tale exposes the trouble brewing in Sugar Man swamp. The main concern of Bingo and J'miah, two raccoon Swamp Scouts, is the approaching brood of feral hogs, which could destroy the precious canebrake sugar used to make fried pies at the local Paradise Pies cafe. Meanwhile, 12-year-old Chap Brayburn, the cafe proprietor's son, is worried about rich, horrible Sonny Boy Beaucoup, who wants to turn the swamp into the "Gator World Wrestling Arena and Theme Park." The swamp's salvation may lie with the furry, bearlike Sugar Man, whose "hands were as large as palmetto ferns" and "feet were like small boats," but finding and awakening him is no easy task. The book's folksy narrative adds brightness and humor to the story as Appelt explores the swamp's rich history, varied denizens, and current threats. Heroes and villains are drawn in bold strokes, but while there's little doubt who will emerge victorious, finding out how events unfurl is well worth the read. Art not seen by PW. Ages 8-12. Agent: Holly McGhee, Pippin Properties. (July) (c) Copyright PWxyz, LLC. All rights reserved.
(c) Copyright PWxyz, LLC. All rights reserved
School Library Journal Gr 3-7-Appelt returns with a rich tale set deep in a Texas swamp, full of critters including gators, rattlesnakes, and feral hogs. Brothers Bingo and J'miah are true-blue scouts (raccoons) who have set up house in an abandoned old DeSoto, adorning it with their artwork and following orders from the Voice of Intelligence (actually the lightning-enabled car radio). The young raccoons are affable and easy to root for as they attempt to stop the gang of wild hogs intent on destroying their beloved Muscovado sugar cane. Woven throughout the 104 short chapters, delivered by a rollicking omniscient third-person narrator, are other stories-greedy Sonny Boy Beaucoup, who is only interested in tearing up Sugar Man Swamp to make room for the Gator World Wrestling Arena and Theme Park; and young Chap Brayburn, who is intent on being the man in the family and protecting his mother and their Paradise Pies Cafe (with pies made from the swamp's sugar cane). As anticipation builds, Bingo and J'miah set out on a quest to wake up the elusive Sugar Man-a Yetilike creature that guards the swamp. Appelt has adeptly intertwined the folksy narrative of a tall tale with a perfect blend of adventure and mystery, all the while subtly bringing an ecological message to the surface.-Michele Shaw, Quail Run Elementary School, San Ramon, CA (c) Copyright 2013. Library Journals LLC, a wholly owned subsidiary of Media Source, Inc. No redistribution permitted.
(c) Copyright Library Journals LLC, a wholly owned subsidiary of Media Source, Inc. No redistribution permitted.