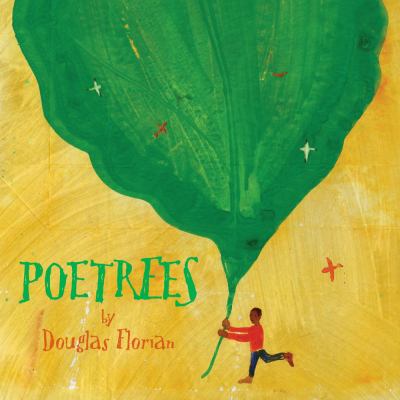 Poetrees
by Douglas Florian
School Library Journal Gr 3-6-Florian focuses on trees (seeds, bark, leaves, roots, and tree rings) and introduces readers to 13 species from around the world. An oversize, double-page illustration accompanies each poem. Some are read lengthwise, which enables the artist to highlight the awesome height and size of trees. The selections are accessible and concise, with child-friendly wordplay and artful design: of the "spreading," "treading," "always-outward-heading" banyan tree, Florian concludes: "It's not a tree-/It's a forest!" The primitive illustrations-crafted on "primed paper bags" using mixed media including gouache watercolor paints, colored pencils, rubber stamps, oil pastels, and collage-range in nuance from whimsy to mystery and reverence. In "The Seed," Florian highlights the symmetry of trees by laying out the short text in a figure eight, an eternity symbol; this dovetails neatly with the overall theme of recycling and renewal. He concludes with a "Glossatree," a thumbnail sketch of each tree, and an author's note and sources. This exquisite collection, with its thoughtful wordplay and timely subject, rewards careful reading and should resonate with a wide audience.-Marilyn Taniguchi, Beverly Hills Public Library, CA (c) Copyright 2010. Library Journals LLC, a wholly owned subsidiary of Media Source, Inc. No redistribution permitted.
(c) Copyright Library Journals LLC, a wholly owned subsidiary of Media Source, Inc. No redistribution permitted.
Book list Starting with the book's title and ending with a final glossatree, the wordplay in Florian's latest poetry collection provides plenty of fun. Each of the 18 poems celebrates the wonder of trees, from the giant sequoia (the world's tallest trees) and the Banyan (an acre in its canopy) to the bristlecone pine, one of the oldest trees on earth (alive for fifty cen-trees). Each poem is printed on a vertical double-page spread illustrated with mixed-media artwork in gouache, watercolor, colored pencil, rubber stamps, oil pastels, and collage on brown paper bags. The dramatic swirling visuals sometimes swamp the words, but the blurry images do leave room for kids to use their imaginations as they interpret the poems. The big pages are well suited for group sharing, as are the playful puns (Lovely leaves / Leave me in awe). The final fascinating notes on each tree, and on leaves, stems, and roots, spell out the call for conservation that is part of the poetry and pictures.--Rochman, Hazel Copyright 2010 Booklist
From Booklist, Copyright © American Library Association. Used with permission.
Publishers Weekly In this unusual collection, Florian focuses on several types of and parts of a tree, with poems about seeds, roots, bark, leaves, and tree rings ("Tree rings show/ how trees grow./ Wide rings: fast growth./ Narrow rings: slow"). Solid in their meter and rhymes, the poems are idiosyncratic rather than comprehensive, creating a hybrid of information, wordplay, and artistic invention. Appropriately enough, Florian's sophisticated collages are created on primed paper bags allowing him to combine interesting textures, chalk, colored pencils, stamps, and oil pastels. In addition to familiar oaks and birches, Florian (Dinothesaurus) explores more unusual trees, including the dragon tree, monkey puzzle tree, and baobab. The book is designed to be held and read vertically, allowing Florian to showcase the height of trees like the giant sequoia ("Never destroy a/ Giant sequoia") or banyan from treetop to root bottom. However, some may find this makes for awkward lap reading. Teachers in particular will find Florian's "Glossatree" at the end useful. Filled with facts about the trees described in the poems, it also includes a brief bibliography and author's note describing Florian's lifelong fascination with trees. Ages 6-up. (Mar.) (c) Copyright PWxyz, LLC. All rights reserved
(c) Copyright PWxyz, LLC. All rights reserved