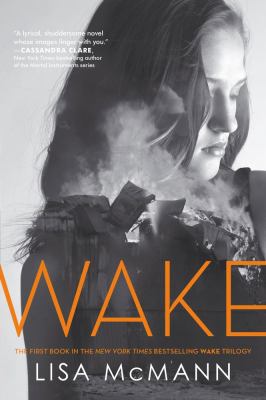 The disreputable history of Frankie Landau-Banks
by Lisa McMann
Publishers Weekly The trick to getting hooked on this highly satisfying first novel is to look past its disjointed opening. The initial chapters consist of flashbacks into which are woven a series of repetitive scenes wherein Janie Hannagan is unwillingly sucked into others' dreams and nightmares, and suffers debilitating side effects. But as soon as McMann establishes Janie's strange skill, she throws just the right teen-centric ingredients into the story to propel it forward and grab readers. Tough and strong Janie, now 17, seems totally independent, charting a future that will lead away from her welfare mother's alcoholism. Her turbulent relationship with Cabel, the unwashed stoner boy-turned-handsome, pulsates with sexual tension--problematized by Janie's knowledge of his insistent dreams about killing a man. But then Cabel learns to communicate his desires to Janie through lucid dreaming at just about the same time that Janie finds out that she can influence the dreams she enters. The plot twists keep coming, even if one or two are shopworn, and the writing has a Caroline Cooney--like snap that's hard to resist. Ages 14-up. (Mar.) Copyright 2008 Reed Business Information.
(c) Copyright PWxyz, LLC. All rights reserved
School Library Journal Gr 7 Up-This clever novel opens with Janie Hannagan, 17, inside the star quarterback's dream-she knows it's his dream because he's the only one naked on the football field. Janie dreams along with her fellow students when they fall asleep near her-on the bus, in study hall, in boring classes, etc. She begins to dream with loner Cabel Sturmheller and discovers both his horrific childhood abuse and longstanding feelings for her. The third-person omniscient narration sets a perfect mood; readers are, like Janie, observers. Janie and Cabel's friendship is sweetly drawn, their conversations are smooth, and their romantic tension builds naturally. The language is realistically gritty. Unfortunately, McMann uses a plot twist right out of Law and Order to doom their relationship, and an even cheaper twist to reconcile them. Still, an economy of language, swift character development, and mysterious circumstances drive the narrative to a fast and mostly satisfying conclusion. McMann also gives useful attention to the science of dreaming. This book is ideal for reluctant readers, especially girls.-Johanna Lewis, New York Public Library Copyright 2008 Reed Business Information.
(c) Copyright 2010. Library Journals LLC, a wholly owned subsidiary of Media Source, Inc. No redistribution permitted.