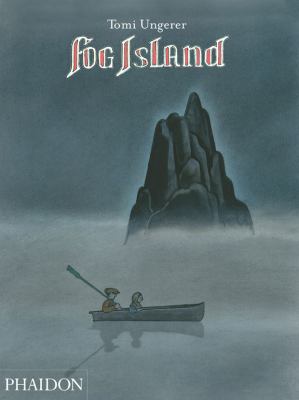 Fog Island
by Tomi Ungerer.
Book list Finn and Cara live with their parents in Ireland, in the back of beyond. It's a poor farming life, but when the family is in their cottage and the wind is howling, they feel safe enough. Living by the sea, they are used to boats, and when their daid makes the children a small curragh, he warns them to never to leave the bay with it and, above all, never go to Fog Island, a dark and dangerous place. But one day, while out in the boat, a fog envelopes the siblings and strong currents carry them to the island. Evil is what they fear, but instead they meet an odd old man the Fog Man who cranks out the misty gray. He shows the children how it's done and even feeds them, but will he allow them to leave for home? The story has a standard journey feel, but the mixed-media illustrations are quite rich. Whether the children are at home, out on the sea, or in the castle, the fog is ever present, almost becoming a character in its own right. A moody, mysterious piece.--Cooper, Ilene Copyright 2010 Booklist
From Booklist, Copyright © American Library Association. Used with permission.
Publishers Weekly Any new book from Ungerer is a cause for celebration, and this one offers a particularly enticing blend of mystery and magic. Siblings Finn and Cara live "by the sea in the back of beyond" with their parents, and the book's early scenes offer homey details of the family's poor but happy life in what is presumably Ireland (to which the book is dedicated). The children's father makes them a small boat, a curragh, warning them to steer clear of Fog Island, "a doomed and evil place." Of course, that's exactly where the children end up. Surreal, mist-shrouded images build a sense of strangeness and tension. Tall anthropomorphic rocks flank a winding staircase, peering at the children suspiciously, and green skeletal arms cling to the door at the top of the stairs, where the children are greeted by a "wizened old man," who shares some of the island's secrets while leaving them with new questions. It's the kind of classic adventure that allows children to triumph over convention and common sense, threaded with peculiar imagery and unknowable mysteries that linger in the imagination. Ages 4-8. (Apr.) (c) Copyright PWxyz, LLC. All rights reserved.
(c) Copyright PWxyz, LLC. All rights reserved
School Library Journal K-Gr 3-Full of suspense and magic, this captivating adventure is set amid the harsh landscape of Ireland's west coast. Resourceful Finn and his sister, Cara, live with their parents, who make a living by fishing and farming-"The family was poor yet grateful to survive on what they had." The spare text captures the lilt of country folk, as well as their superstitions. Ungerer creates an eerie atmosphere by using a palette of predominantly somber hues of gray, black, brown, and blue. The art is dramatic and powerful; the cover spread of fog-enshrouded children glows with breathtaking beauty. After their father builds a small curragh for his son and daughter, he warms them never to go to Fog Island, a "doomed and evil place," but one day they find themselves lost in a fog and currents carry them to there. Once they land, the curious youngsters climb a set of slippery stairs with creepy faces peering at them and skeletonlike vines intertwined among the rocks. But the person who answers the door at the top is the rather lonely and congenial Fog Man. He shows them how he makes fog, serves them a strange fish stew, and tucks them into bed. When they awake the next morning, they find themselves lying among ruins with no one in sight, but with steaming bowls of stew by their side. Literal-minded readers might wonder why the Fog Man's lair appears to be underwater, when the children walked so far up the steps to find it. And the subsequent storm and rescue at sea seems tacked on. Nevertheless, this intriguing story will ignite discussion on the central question-was the Fog Man real, or a dream?-Caroline Ward, The Ferguson Library, Stamford, CT (c) Copyright 2013. Library Journals LLC, a wholly owned subsidiary of Media Source, Inc. No redistribution permitted.
(c) Copyright Library Journals LLC, a wholly owned subsidiary of Media Source, Inc. No redistribution permitted.