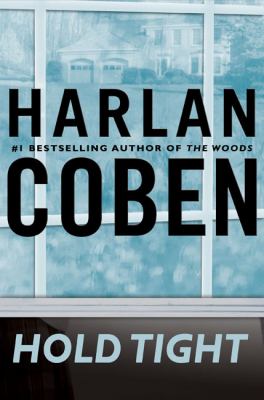 Hold tight
by Harlan Coben
Library Journal "Just stay quiet and all safe." Not a good message to find when spying on your 16-year-old son's computer. With a national tour. Copyright 2008 Reed Business Information.
(c) Copyright 2010. Library Journals LLC, a wholly owned subsidiary of Media Source, Inc. No redistribution permitted.
Book list *Starred Review* The average person visiting an electronics store may be excited, confused, or bored. It takes a suspense master like Coben to realize the full pernicious potential, to extrapolate the eerie endgames, hidden in contemporary electronics. In thriller after thriller, Coben, who has a clutch of awards including the Edgar, Shamus, and Anthony, casts a variety of electronic gadgets as prime plot movers and shakers. His genius is to make the seemingly mundane terrifying. In his latest, computer spyware, text messages, and cell phones deliver a series of well-timed shocks to the family he focuses on and to the reader. Coben begins with a harrowing scene in which a woman is forced from a bar and brutally murdered. Cut to a seemingly unrelated scenario parents installing a program on their son's computer that can monitor his every keystroke. Throughout, Coben juxtaposes a serial killer's spree with a domestic drama centering on the ways that a friend's suicide has affected the son, his parents, and the entire neighborhood. A single message ( Just stay quiet and all safe ) shakes up the parents, who are soon spiked with terror as their son vanishes. Coben enhances the narration with shifting points of view and through the cryptic messages that follow the son's disappearance. He also brings the spate of serial killings closer and closer to the family. Fascinating.--Fletcher, Connie Copyright 2008 Booklist
From Booklist, Copyright © American Library Association. Used with permission.
Library Journal Coben (The Final Detail) continues to dominate the thriller genre in this latest examination of suburbia. Mike and Tia Baye's son Adam delivers typically teen angst to his befuddled family. As a precaution, Mike and Tia invest in a spyware program that will report every keystroke on Adam's personal computer so they can track his movements. The results terrify them, and then Adam disappears. Life moves forward, and the questions become complex: How far would you go to protect your family? How well do you know your children? Coben tackles the troubles not only of the Bayes but also of other families, creating a strikingly realistic X-ray of an entire neighborhood. A fast and exhilarating roller-coaster ride that you don't want to end, but hold on tight. Then take the time to hug your kids. A mandatory purchase. [See Prepub Alert, LJ 1/08.]--Jeff Ayers, Seattle P.L. Copyright 2008 Reed Business Information.
(c) Copyright 2010. Library Journals LLC, a wholly owned subsidiary of Media Source, Inc. No redistribution permitted.
Publishers Weekly Parents will find this compulsive page-turner from Edgar-winner Coben (The Woods) particularly unnerving. A sadistic killer is at play in suburban Glen Rock, N.J., outside New York City, but somehow he's less frightening than the more mundane problems that send ordinary lives into chaos. How do you weigh a child's privacy against a parent's right to know? How do you differentiate normal teenage rebelliousness from out-of-control behavior? When and how do you intervene if suicidal signs appear? Other issues include single parenting; career versus family; marital honesty; and how much information you should share with a child at what age. Coben plucks each of these strings like a virtuoso as Mike and Tia Baye try to deal with the increasing withdrawal of their 16-year-old son, Adam, after a friend's suicide. A pair of brutal, seemingly senseless killings, punctuate the unfolding domestic troubles that ratchet up the tension and engulf the Baye family, their friends and neighbors in a web of increasing tragedy. The "this could be me" factor lends poignancy to the thrills and chills. (Apr.) Copyright 2008 Reed Business Information.
(c) Copyright PWxyz, LLC. All rights reserved