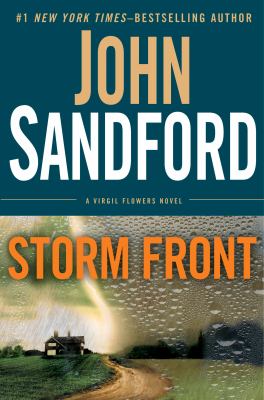 Storm Front
by John Sandford
Publishers Weekly Thriller Award-winner Sandford ventures into Da Vinci Code territory in his clever, quirky seventh Virgil Flowers novel (after 2012's Mad River). When an archeological dig in Israel turns up a stele-an inscribed piece of stone-with the potential to shake the roots of Biblical faith, Elijah Jones, a college professor who fears he's dying, steals the precious artifact and flees home to Mankuto, Minn. Virgil, a Minnesota Bureau of Criminal Investigation agent, at first simply attempts to recover the stolen object, but soon finds himself trying to outwit mercenary Turks as well as agents of the Mossad, Hezbollah, and Texas gazillionares, all of whom want the artifact for their own purposes. Despite the bloodthirsty fanaticism the participants display, the quest for the stone provides many opportunities for cross-cultural verbal confusion and violent slapstick. Though attracted to a sexy local criminal who's become Jones's accomplice, the exasperated Virgil mainly tries to stop the commotion before anyone gets seriously hurt. Unusually good-natured intrigue distinguishes this outing. Agent: Esther Newberg, ICM. (Oct.) (c) Copyright PWxyz, LLC. All rights reserved.
(c) Copyright PWxyz, LLC. All rights reserved
Book list The seventh Virgil Flowers mystery finds the Minnesota Bureau of Criminal Apprehension agent handed (by his boss, and star of his own series, Lucas Davenport) a curious case. Seems a local college professor stole a valuable artifact from an Israeli archaeological dig, returned home to the States, and then promptly vanished; an Israeli investigator is on her way, determined to track the man down and reclaim the artifact. As it turns out, the case isn't as straightforward as it appears: other people seem pretty interested in the artifact (as evidenced by the violent break-in at the professor's house), and Virgil can't keep himself from thinking the Israeli investigator isn't telling him the whole story. Kudos to Sandford for taking what could have been an ancient-mystery thriller a la Dan Brown (all the ingredients are here, including a secret that could shake the very foundations of Christianity) and playing it like a cop novel. Fans of the Flowers and Davenport series will thoroughly enjoy this one.--Pitt, David Copyright 2010 Booklist
From Booklist, Copyright © American Library Association. Used with permission.