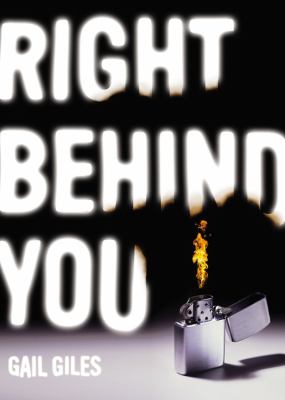 Right behind you
by Gail Giles
School Library Journal Gr 8 Up-After setting his seven-year-old neighbor in Alaska on fire, Kip McFarland spends four years in a facility for violent juvenile offenders. When he is released at the age of 14, he, his father, and his new stepmother move to Indiana, with new names. For a while, Wade enjoys a normal life. Eventually, however, despite the warnings of his therapist, he sabotages his happiness in a drunken fit of rage. After he reveals his identity, the town turns on him and his family. Now, a coastal Texas town is their final shot at starting over. The cozy community appears to be a perfect haven, but Wade feels compelled to reveal his past to Sam, the beautiful and mysterious neighbor who is winning his heart-and has a story of her own. Will she still accept him once she finds out he is a murderer? This quick read has a compelling story line, but the characters, especially the adults, are at times one-dimensional, with voices that are somewhat indistinguishable from one another. Reluctant readers will be drawn to the story's accessibility, and many teens will be pulled in by the larger questions the novel poses about innocence and acceptance. Despite its flaws, this book will be a hit with Giles's fans.-Lynn Rashid, Marriots Ridge High School, Marriotsville, MD Copyright 2007 Reed Business Information.
Copyright © Reed Business Information, a division of Reed Elsevier Inc. All rights reserved.
Publishers Weekly Giles (What Happened to Cass McBride?) returns with another riveting nail-biter. Kip and his father live a spartan life in Alaska until nine-year-old Kip, in a jealous rage, sets a neighboring boy afire, killing him. Put in a psychiatric hospital for criminal juveniles, he is released four and a half years later and moves to Indiana with his father and new stepmother. Kip and his family assume new identities (Kip now goes by Wade). As Wade, who is by all accounts observant, articulate and intelligent, struggles with the sins of his past and finding his place in the outside world, he becomes a star swimmer at the school and even gets a girlfriend, who he nicknames "Absolutely Cutest." However, one drunken evening, Wade reveals his secret to his friends and soon after he and his family are forced to relocate once more, this time to Texas. There he finds a kindred spirit in his new neighbor Sam, a beautiful girl who considers herself to be "damaged goods" of a sort, as well. This story explores, with sympathy and compassion, the nature of guilt, atonement and forgiveness. As Giles delicately handles these delicate issues and questions ("Do you get to kill someone and say, `Oh, really sorry now,' and everything is fine?"), readers should be glued to Wade's story, hoping for his redemption. Ages 15-up. (Sept.) Copyright 2007 Reed Business Information.
Copyright © Reed Business Information, a division of Reed Elsevier Inc. All rights reserved.
Book list The most horrific moment comes at the beginning: distraught 10-year-old Kip kills another child by dousing him with gasoline and setting him afire. Traumatized, he's sent to a mental ward for serious juvenile offenders (the Loon Platoon), where he's encouraged to examine his feelings and memories. At 14, he reenters the world with a different identity, well aware that his fragile new self and the welfare of his family are built on a lie. Eventually, a girl with her own sad baggage walks into his life. Should he confess his past to her? A cheerleader stepmom and the convenience of finding a soulmate as troubled as he is are hard to swallow, but Kip's halting endeavors to start over are both credible and carefully nuanced. Cynical and smart, Kip is also filled with self-reproach, and despite his crime, he'll earn readers' respect as he struggles to find out who he is and forge a path toward who he will eventually become. Giles' fans won't find outright thrills, but they'll come away with a greater understanding of redemption and forgiveness.--Zvirin, Stephanie Copyright 2007 Booklist
From Booklist, Copyright © American Library Association. Used with permission.