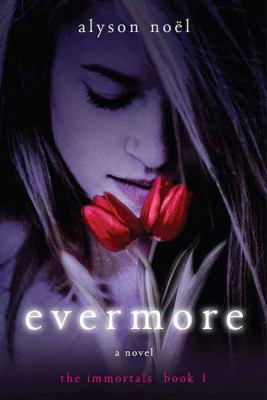 Evermore
by Alyson Noel
Book list This opening book in a new series, The Immortals, will thrill many teen fantasy-suspense readers, especially fans of Stephenie Meyer's Twilight series. Seventeen-year-old Ever survived the car crash that killed her parents, younger sister, and their dog. Now she lives with an aunt in Southern California, plagued not only by survivor guilt but also by a new ability to hear the thoughts of all around her. She tries to tune out all these distractions by keeping her hoodie up and her iPod cranked loud, until Damen, the cute new boy at school, convinces her to come out of her shell. Damen, however, is frighteningly clever and has the strange ability to produce tulips from nowhere and disappear himself at critical moments. Noel (Saving Zoe, 2007) creates a cast of recognizably diverse teens in a realistic high-school setting, along with just the right tension to make Ever's discovery of her own immortality should she choose it exciting and credible.--Goldsmith, Francisca Copyright 2009 Booklist
From Booklist, Copyright © American Library Association. Used with permission.
School Library Journal Gr 9 Up-After surviving a car accident that killed her entire family, 16-year-old Ever gains the ability to see auras and read thoughts. The overwhelming nature of her new powers and her guilt about the accident turn the once-popular teen into a loner at school. She makes friends with stereotypically gay Miles and mega-Goth Haven, and does everything she can to drown out the din of psychic energy around her. Her loner status comes under siege, as does her friendship with Haven, when a new boy, Damen, shows an interest in her. By accident, Ever learns that he has no aura, a fact that pushes her to uncover more about the mysterious newcomer. Some obvious clues, like the red liquid that Damen drinks instead of food, lead Ever to conclude that he is a vampire when in fact his true nature is more complex. Teens will identify with Ever, who not only has to deal with relationship and friend issues, but also with a dead sister who refuses to cross over and crippling psychic powers that make it hard to cope with everyday life. Though the familiar premise may hook many paranormal romance fans, none of the plot elements receive the thorough treatment they deserve, and the revelation in the end relies too heavily on backstory. Not a first pick in this ever-expanding genre.-Kim Ventrella, Ralph Ellison Library, Oklahoma City, OK Copyright 2009 Reed Business Information.
Copyright © Reed Business Information, a division of Reed Elsevier Inc. All rights reserved.