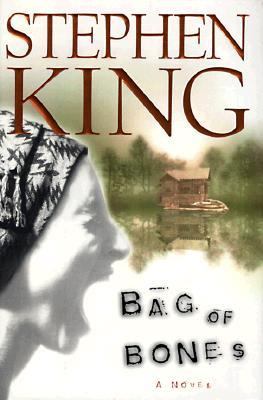 Bag of Bones
by Stephen King
Library Journal King's first novel with new publisher Scribner is a traditional ghost story that proves heavier on sentiment and a bit lighter on horror than most of his previous work. At the novel's outset, we find best-selling suspense novelist Mike Noonan (a self-described "V.C. Andrews with a prick") mourning the untimely death of his wife. Plagued by vivid nightmares, writer's block, and ghostly visitations, Noonan nonetheless becomes willingly involved in a bitter custody dispute between a beautiful young woman and a wealthy computer magnate. All is not as it seems, however, and Noonan soon finds himself and his charges pawns of forces seeking revenge for an unspeakable, century-old crime. In typical King fashion, the narrative is sprinkled with coy references to characters from previous novels. Although not as entertaining as Desperation (Viking, 1996), Bag of Bones is tightly plotted, and King orchestrates the rising tension with the deft touch of a maestro. Needless to say, this will fly off the shelves of popular collections. [BOMC main selection; previewed in Prepub Alert, LJ 5/15/98.]?Mark Annichiarico, "Library Journal" (c) Copyright 2010. Library Journals LLC, a wholly owned subsidiary of Media Source, Inc. No redistribution permitted.
(c) Copyright Library Journals LLC, a wholly owned subsidiary of Media Source, Inc. No redistribution permitted.
Book list It never rains but . . . First, 35-year-old pop novelist Mike Noonan's wife, Joanne, dies suddenly. Then, no sooner does he finish his current book-in-progress than he comes down with severe writer's block. How severe? How about sweating, chest pains, and, finally, explosive vomiting when Mike merely looks at his word-processing program? Fortunately, Mike has three complete, unsubmitted yarns in a safety deposit box, so his one-a-year schedule isn't immediately disrupted, and he doesn't have to tell anybody he is hung up. As the fourth year winds down, Mike revisits the lake place he and Jo kept and, after meeting a little girl and her young, widowed mother, stays on. Which puts him in harm's way, for he hears voices in and around the place--a child crying and Jo's voice, too--and his new friends are menaced by the richest man in town, the dead father's father, who wants to take the child from the mother and who, despite being old and wheelchair-bound, is as good at ultraviolence as any King heavy. Except in word count, this is half the book that one of King's best (e.g., 'Salem's Lot, Delores Claiborne) is, or that the classic ghost romance that haunts Mike, Daphne du Maurier's Rebecca, is. King's attempt to write an American lumpen bourgeois cognate to du Maurier's masterpiece founders because of a couple of his constant temptations: too many words and too much vulgarity. But remember, this is a Stephen King book: libraries have to have it. --Ray Olson
From Booklist, Copyright © American Library Association. Used with permission.
Publishers Weekly Carrying galley copy that avoids the h(orror) word while touting its "O. Henry Award-winning author," King's latest novel features a marketing campaign in accord with the distinguished pedigree of his new publisher. But has King written a book that ranks him as a literary heavyweight? Indeed he has, though not by forsaking his roots: the novel is a classic ghost story. It opens quietly as narrator Mike Noonan, 40, bestselling author of romantic suspense potboilers (and latest in a line of King novelist-heroes, cf. Misery and The Dark Half) describes the death of his wife four years back and his consequent grief and writer's block. Mike has kept the block hidden from the publishing world?limned in delicious detail, with real names?by annually pulling one of his own, unpublished mss. from a safe-deposit box. Now that he's out of old novels to submit, he resolves to work through his troubles at Sara Laughs, his country house in backwoods Maine. Arriving there, Mike nearly drives over a three-year-old girl. She is Kyra, granddaughter?by way of beautiful young widow Mattie?of mad computer mogul Max Devore, who is hellbent on snatching the girl from her mother. Taking up Kyra's cause, falling in love with Mattie, Mike gears up for a custody battle. Invigorated, he breaks through his writer's block; but great danger, psychological and physical, awaits, from Max Devore but especially from the spirits, mostly malevolent, that haunt Sara Laughs due to hideous crimes committed by Devore's ancestor a century earlier. Violence, natural and supernatural, ensues as past and present mix, culminating in a torrent of climaxes that bind and illuminate the novel's many mysteries. From his mint-fresh etching of spooky rural Maine to his masterful pacing and deft handling of numerous themes, particularly of the fragility of our constructs about reality and of love's ability to mend rifts in those constructs, this is one of King's most accomplished novels. It is his most personal as well, revealing through Mike's broodings the intimacies of the creative writing process: a passionate gift from a veteran author to all who care about the art and craft of storytelling. 1.26 million first printing; BOMC main selection (Sept.) FYI: Bag of Bones is the only hardcover Scribner will publish in September. (c) Copyright PWxyz, LLC. All rights reserved
(c) Copyright PWxyz, LLC. All rights reserved