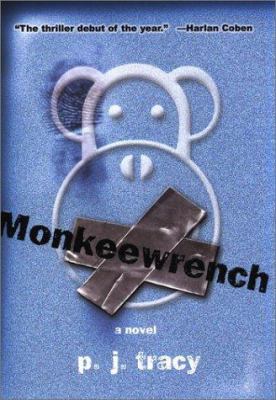 Monkeewrench
by P.J. Tracy
Library Journal Right from the opening scene in which a priest complains about heartburn caused by the cooking of an overzealous nun, this first novel by an anonymous mother and daughter team delivers. Monkeewrench is a software company founded by five college buddies and headed by Grace McBride. After releasing their latest venture, a game called Serial Killer Detective, trouble arises: once it is released on the web, someone starts imitating the murders in real life. Are the killings in Minneapolis related to a church homicide in Wisconsin? Grace and her colleagues start playing the game themselves, analyzing victim profiles and crimes scenes to find the killer. This fun, snappy read features funny, sad, and spirited characters. Beautiful and tough, Grace has a sordid past that she is trying to forget; police detective Magozzi has his own past mistakes to overcome as well. Throw in a hot sheriff from rural Wisconsin, a ten-year-old African American orphan, a dog named Charlie, and the rest of the Monkeewrench crew-along with a serial killer who has just resurfaced after ten years-and you get one nonstop story. Highly recommended for most public libraries.-Marianne Fitzgerald, Independence High Sch., Charlotte, NC (c) Copyright 2010. Library Journals LLC, a wholly owned subsidiary of Media Source, Inc. No redistribution permitted.
(c) Copyright Library Journals LLC, a wholly owned subsidiary of Media Source, Inc. No redistribution permitted.
Book list When people start dying in strange ways in Minneapolis, everyone wonders what the murderer will do next--everyone except the employees of Monkeewrench Software, who are all too aware that their new serial-killer computer game is the model for the crimes. They go to the police with the what, where, and when of the next murders and quickly become suspects themselves as the killer strikes again exactly as they predict. Does the closely knit group of coworkers know something they're not telling about the all-important who and why? The missing pieces come eventually from an unlikely source as a rural Wisconsin sheriff links his own chilling case to the Minneapolis murders. The two teams of detectives--one from the big city and one from the small town but both with their own quirks, love interests, and insights--provide the sparkle in this engaging debut thriller by a mother-daughter writing team who lace their suspense with humor ala Harlan Coben. --Carrie Bissey
From Booklist, Copyright © American Library Association. Used with permission.
Publishers Weekly A mother-daughter writing team pens a soundly plotted thriller that fires on all cylinders. Tracy (the authors' pseudonym) seamlessly weaves together three distinct subplots converging on a Minneapolis software company, Monkeewrench, run by eclectic misfits and founded by the beautiful, bitchy, haunted Grace MacBride, an enigmatic recluse. The slaying of an elderly couple in a Wisconsin church draws Sheriff Michael Halloran and his amorous deputy, Sharon Mueller, into an investigation that brings unprecedented scrutiny to their conservative rural town. At the same time, a string of baffling murders in Minneapolis are driving homicide detectives Leo Magozzi and Gino Rolseth bonkers. Then the folks at Monkeewrench figure out what's going on: a killer is staging a series of exotic murders that duplicate those in their grisly new video game, Serial Killer Detective. Desperate to prevent additional murders (the game has 20), the programmers study the victims to figure out who might be next. Meanwhile, Magozzi's investigation reveals that MacBride and her colleagues created entirely new identities for themselves years earlier, for reasons the FBI won't reveal, but which, Magozzi slowly finds, are connected to another series of murders a decade earlier in Atlanta. Tracy covers all the bases in this debut thriller: an accelerating, unpredictable plot that combines police procedural with techno-geek-speak, an array of well-drawn characters and, most importantly, witty repartee. Audio rights to Brilliance; foreign rights sold in France, Germany and the U.K. (Apr.) (c) Copyright PWxyz, LLC. All rights reserved
(c) Copyright PWxyz, LLC. All rights reserved