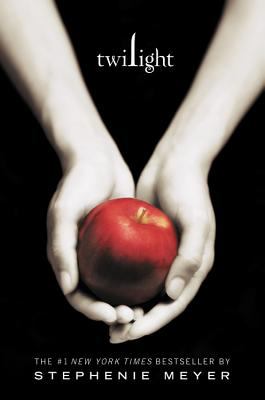 Twilight
by Stephenie Meyer
Publishers Weekly Isabella Swan, 17, narrates this riveting first novel, propelled by suspense and romance in equal parts. The story opens with a cryptic scene of the heroine "facing death," then flashes back to Bella's departure from Phoenix, where her mother lives with her new husband, as the teen heads off to live with her father, the police chief in Forks, Wash. From the first day at her new high school, she finds herself magnetically drawn to Edward Cullen, whose behavior towards her is erratic ("I'd just explained my dreary life to this bizarre, beautiful boy who may or may not despise me"). Then she finds out why his interest in her runs hot and cold: he is a vampire-but of an unusual variety. Edward, his siblings and their adoptive parents have disciplined themselves to feed on animals rather than humans; and Edward is obsessed with Bella. Other elements factor into the plot, including a rival group of vampires who are not as disciplined as the Cullens. This plot twist (which includes a subplot about one of the Cullens' past life) contributes to a rushed denouement (much of it takes place offstage) that is perhaps the novel's only weakness. The main draw here is Bella's infatuation with outsider Edward, the sense of danger inherent in their love, and Edward's inner struggle-a perfect metaphor for the sexual tension that accompanies adolescence. These will be familiar to nearly every teen, and will keep readers madly flipping the pages of Meyer's tantalizing debut. Ages 12-up. (Oct.) Copyright 2005 Reed Business Information.
Copyright © Reed Business Information, a division of Reed Elsevier Inc. All rights reserved.
Book list Gr. 9-12. In the tradition of Anne Rice and YA titles such as Annette Curtis Klause's The0 Silver Kiss 0 (1999) comes this heady romance that intertwines Bella Swan's life with that of Edward, an alluring and tormented vampire. Bella's life changes when she moves to perpetually rain-soaked Forks, Washington. She is instantly drawn to a fellow student, Edward Cullen, beautiful beyond belief and angrily aloof. Bella senses there is more behind Edward's hostility, and in a plot that slowly and frighteningly unfolds, she learns that Edward and his family are vampires--though they do not hunt humans. Yet Edward cannot promise that his powerful attraction to Bella won't put in her in danger, or worse. Recklessly in love, Bella wants only to be with Edward, but when a vicious, blood-lusting predator complicates her world, Bella's peril is brutally revealed. This is a book of the senses: Edward is first attracted by Bella's scent; ironically, Bella is repelled when she sees blood. Their love is palpable, heightened by their touches, and teens will respond viscerally. There are some flaws here--a plot that could have been tightened, an overreliance on adjectives and adverbs to bolster dialogue--but this dark romance seeps into the soul. --Ilene Cooper Copyright 2005 Booklist
From Booklist, Copyright © American Library Association. Used with permission.
School Library Journal Gr 9 Up-Headstrong, sun-loving, 17-year-old Bella declines her mom's invitation to move to Florida, and instead reluctantly opts to move to her dad's cabin in the dreary, rainy town of Forks, WA. She becomes intrigued with Edward Cullen, a distant, stylish, and disarmingly handsome senior, who is also a vampire. When he reveals that his specific clan hunts wildlife instead of humans, Bella deduces that she is safe from his blood-sucking instincts and therefore free to fall hopelessly in love with him. The feeling is mutual, and the resulting volatile romance smolders as they attempt to hide Edward's identity from her family and the rest of the school. Meyer adds an eerie new twist to the mismatched, star-crossed lovers theme: predator falls for prey, human falls for vampire. This tension strips away any pretense readers may have about the everyday teen romance novel, and kissing, touching, and talking take on an entirely new meaning when one small mistake could be life-threatening. Bella and Edward's struggle to make their relationship work becomes a struggle for survival, especially when vampires from an outside clan infiltrate the Cullen territory and head straight for her. As a result, the novel's danger-factor skyrockets as the excitement of secret love and hushed affection morphs into a terrifying race to stay alive. Realistic, subtle, succinct, and easy to follow, Twilight will have readers dying to sink their teeth into it.-Hillias J. Martin, New York Public Library Copyright 2005 Reed Business Information.
Copyright © Reed Business Information, a division of Reed Elsevier Inc. All rights reserved.