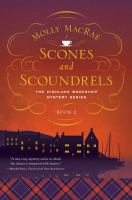 Library Journal
(c) Copyright Library Journals LLC, a wholly owned subsidiary of Media Source, Inc. No redistribution permitted.

Janet Marsh, the co-owner of Yon Bonnie Books in Inversgail, Scotland, having previously solved a murder in Plaid and Plagiarism, is pushed to investigate once again by the local author-in-residence when a man is killed outside the local pub. Daphne Wood, author and environmental activist, once lived in Inversgail before immigrating to Canada. Now, as she digs around, she irritates almost everyone in town, demands special treatment, and stirs up trouble. When Daphne ends up dead, poisoned by scones from the bookshop's tea room, Janet and her friends realize they may be the next targets of a killer. VERDICT With its cast of appealing amateur sleuths and quirky town residents, this leisurely paced mystery will attract cozy fans of Paige Shelton's "Scottish Bookshop" mysteries, as well as lovers of biblio-mysteries by Carolyn Hart or Vicki Delany.-Lesa Holstine, Evansville Vanderburgh P.L., IN © Copyright 2018. Library Journals LLC, a wholly owned subsidiary of Media Source, Inc. No redistribution permitted.
---
Book list
From Booklist, Copyright © American Library Association. Used with permission.

The residents of Inversgail, Scotland, are excited to welcome noted environmentalist and writer Daphne Wood as author-in-residence. However, Daphne manages to insult the town, libraries, environmental restorationists, and others with her downright rudeness and capricious ways, causing one resident to label her a bampot (idiot). Janet; her daughter, Tallie; Christine; and Summer who together own Yon Bonnie Books as well as the associated tearoom and bed-and-breakfast host Daphne for a book signing at the store, and when a tourist is murdered outside their favorite pub, Daphne wants to join the four of them in conducting an investigation of the crime. The quartet, who had previously helped solve a murder (Plaid and Plagiarism, 2016), decline to become involved until Daphne, too, is murdered, apparently by a poisoned scone from their tearoom. They put forward various theories and disprove them one by one until, with a final plot twist, they uncover a killer, almost losing their lives in the process. Details of small-town life on the western coast of Scotland enliven this smooth-flowing cozy, populated by a cast of engaging characters.--O'Brien, Sue Copyright 2017 Booklist
---
Publishers Weekly
(c) Copyright PWxyz, LLC. All rights reserved

The deaths of an author and a tourist pose complications for the operators of Yon Bonnie Books in MacRae's lively follow-up to 2016's Plaid and Plagiarism. The bookstore and café partners-motherly Janet Marsh, sharp ex-lawyer Tallie (Janet's daughter), imperious Christine Robertson, and gifted baker Summer Jacobs-have their hands full when environmental author and former resident Daphne Wood returns to the Highland town of Inversgail with a long list of demands for her accommodations and her signings. Daphne alienates much of the town through her rude and cruel behavior as well as her fixation on an American tourist who died outside a local pub, so it is little surprise when her body is found. The bookshop investigators wonder whether her death might relate to that of the tourist, the disappearance of a high school teacher who moonlights as a photographer, and the members of a mysterious secret society. An array of neighbors, such as a clueless mystery writer who styles himself a supersleuth, adds color, humor, and even wisdom to the proceedings. Cozy fans are in for a treat. (Jan.) © Copyright PWxyz, LLC. All rights reserved.