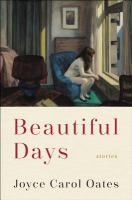 Book list
From Booklist, Copyright © American Library Association. Used with permission.

Oates' latest story collection features varied characters coping with confounding situations and relationships, with reconciliation often just beyond their grasp, whether they desire it or not. The 12 tales examine the forces and preconceptions that guide the characters' internal navigation. In Fleuve Bleu, a chance encounter between strangers evolves into an affair involving power dynamics as well as the effects of self-justification in the pursuit of individual pleasure. The Bereaved follows Max and his younger wife, Becca, after the death of Max's troubled daughter (and Becca's stepdaughter), as the couple embarks on a cruise to avoid a cruel anniversary. It's a well-meaning diversion that soon reveals uneasy perceptions, memories, and doubts. Realities and influences shift and transform in the collection's later works. The haunting Fractal tracks a mother and young son as they travel to a museum specializing in the son's favorite subject, the story simmering in quiet panic as the visit frenetically devolves. Oates' diverse tales offer a forthright exploration of her characters' impulsiveness and internal provocations, further exposing the uncomfortable, virulent truths in their lives, and ours.--Strauss, Leah Copyright 2018 Booklist
---
Library Journal
(c) Copyright Library Journals LLC, a wholly owned subsidiary of Media Source, Inc. No redistribution permitted.

With her usual acute grasp of human psychology, the prolific, multi-award-winning Oates delivers a hefty volume of short stories in three parts. Pieces in the first section mostly explore lacerating relationships that are broken or breaking. A married man tires of the daring and dazzling honesty he and his younger lover, also married, once shared; as he returns later, when she has cancer, she shouts him down. A man plots to implicate a woman who loves him in his death, and elsewhere, a couple for whom marriage "is an affable not-quite-hearing" bend but perhaps don't break under the strain of a daughter's death. The second section features identity confusion, with a white woman convinced that the black nurse easing her pain is the hostile student she once tried to help, and a professor who is intrigued by a staring woman learns that she thought he was deceased. In the final section, a young woman worships the reckless "master" who controls her and an African student unprepared for an American university education is deprived of his visa and subjected to horrific indignities. VERDICT -Perceptive, un-missable work. [See Prepub Alert, 8/28/17.] © Copyright 2018. Library Journals LLC, a wholly owned subsidiary of Media Source, Inc. No redistribution permitted.
---
Publishers Weekly
(c) Copyright PWxyz, LLC. All rights reserved

Oates (A Book of American Martyrs) toes the line between condemnation of and fascination with her characters in this collection of ethical failures. In part one, the characters' self-definitions blind them to the pain they cause themselves and each other-as in "Fleuve Bleu," in which lovers promise complete honesty and deliver needless pain. In the second part, assumptions, biases, and privilege stymie awareness among people of different races, genders, and body types. In "Except You Bless Me," a white adjunct composition instructor suspects without clear cause that a black student has been sending her hate mail. In the collection's speculative, fabulist third act, there are clear victims-the only characters readers will find sympathetic. In "Fractal," a boy becomes separated (both physically and emotionally) from his mother as they tour a fractal museum. In "David Barthelme Saved from Oblivion," a string of children leads an alcoholic writer away from his favorite liquor store. Throughout the book, the characters speak to themselves at least as often as they speak to each other. The Pushcart-winning "Undocumented Alien" is composed entirely of lab notes by postdocs more concerned with their work conditions than the ethics of their research. In Oates's narrowly constructed cast of ivory tower intelligentsia, subtle, toxic failings go unchecked. (Feb.) © Copyright PWxyz, LLC. All rights reserved.