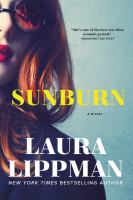 Publishers Weekly
(c) Copyright PWxyz, LLC. All rights reserved

Set in Delaware in 1995, this scorching tale of the gray area between betrayal, lust, and murder from Edgar-winner Lippman (Wilde Lake) will resonate with fans of James M. Cain's The Postman Always Rings Twice and Double Indemnity. When Polly Costello walks out on her husband and young daughter during their beach vacation, she gets as far as Belleville, a town with a main drag and not much else, except the High-Ho diner, where she lands a job waitressing, at least for now. Enter Adam Bosk, who knows more than he's telling-of course, so does Polly-but who can cook a mean burger. Soon Polly and Adam, who is exactly the kind of inquisitive guy a woman with secrets should avoid, are dancing around a relationship when Polly's checkered past-another husband, insurance money, and now a suspicious death in Belleville-comes crawling back. Lippman ratchets up the suspense the way the mercury in a thermometer creeps up on a hot August day, until everything-Polly's carefully laid plans of revenge and redemption, Adam's part in her potential downfall-comes to a boiling point. This is Lippman at her observant, fiercest best, a force to be reckoned with in crime fiction. Agent: Vicky Bijur, Vicky Bijur Literary. (Feb.) © Copyright PWxyz, LLC. All rights reserved.
---
Book list
From Booklist, Copyright © American Library Association. Used with permission.

*Starred Review* It's no coincidence that the books of James M. Cain get a shout-out in Lippman's new novel. This story about a bad girl and the man who falls in love with her could easily be set in the 1940s or '50s (it's actually set in the mid-'90s). Our lovers meet in a small Delaware town; she's a customer at a restaurant-slash-bar, and he's sitting a couple of stools over. They make small talk, lightly flirtatious banter, and they wind up sharing an attraction. But here's the thing: the bad girl, who calls herself Polly, has a past. And their meeting is no chance encounter; the man (it's tempting to call him a patsy), Adam, has followed her to this small town. Why? For whom is Adam working? What secrets is Polly keeping hidden away? Lippman answers these questions, and several more besides, but in an especially tantalizing manner, parceling out information slowly, a bit here, a bit there, letting us spend some time processing a new revelation before dropping another one on us. Ingeniously constructed and extremely suspenseful, the novel keeps us guessing right up until its final moments. Lippman is a popular and dependable writer, and this homage to classic noir showcases a writer at the height of her powers. HIGH-DEMAND BACKSTORY: Lippman's star continues to rise, and her latest is already attracting a lot of buzz. Expect that to grow as the pub date draws closer.--Pitt, David Copyright 2018 Booklist
---
Library Journal
(c) Copyright Library Journals LLC, a wholly owned subsidiary of Media Source, Inc. No redistribution permitted.

After reworking Harper Lee's universe in Wilde Lake, the author gives the star-crossed souls of James M. Cain's fiction the Lippman treatment. Hence, desperate lovers Polly and Adam meet in a sleepy Delaware not-quite-beach town and harbor secrets there and in Baltimore. They circle each other warily, but it's fated they'll end up together. Their affair is threatened by the things they conceal from each other and by enemies lurking all around. Lippman's complicated femme fatale heroine and conflicted hero are more layered than one would expect from noir protagonists, and her nuanced characterizations extend beyond the couple at the center of the story. With an economy of words, she creates three--dimensional characters such as Irving, the man who hires Adam to spy on Polly, Cath, the weak link in a love triangle, and Polly's mother-in-law -Savannah, who's not quite sure she's grandma material. Lippman's minute observations about modern life, human foibles, and the many faces of love are lagniappes to this tasty feast of a novel. VERDICT Just try to read this fantastic stand-alone from the creator of the "Tess Monaghan" series slowly. Modern noir at its best, it will delight old-movie lovers, satisfy suspense readers, and reward Lippman's legion of fans. [See Prepub Alert, 8/14/17.]-Liz French, Library Journal © Copyright 2017. Library Journals LLC, a wholly owned subsidiary of Media Source, Inc. No redistribution permitted.