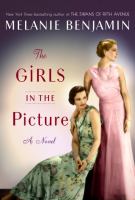 Library Journal
(c) Copyright Library Journals LLC, a wholly owned subsidiary of Media Source, Inc. No redistribution permitted.

In the earliest days of Hollywood's motion picture industry, two remarkable women become close friends: the image-conscious actress Mary Pickford, who depends on pleasing the public to escape the poverty of her childhood, and the savvy screenwriter Frances Marion, whose scripts provide the foundation of Mary's meteoric rise to fame as "America's sweetheart." The women were once bound tightly together by a mutual desire for success, but their friendship soon suffers from both personal and professional jealousy in a rapidly changing industry in which men increasingly call the shots. Book club favorite Benjamin (The Aviator's Wife; The Swans of Fifth Avenue) once again finds inspiration in the story of real-life, ambitious women resisting pressure to conform to society's rules. Benjamin fully captures the giddy excitement of the blossoming movie business in the 1910s and 1920s and has chosen intriguingly flawed protagonists with compelling life stories that aren't widely known today. VERDICT This engrossing and rewarding read provides the same mixture of well-researched plot and fascinating characters who have made Benjamin's previous novels so outstanding. [See Prepub Alert, 7/31/17; library marketing.]-Mara Bandy Fass, Champaign P.L., IL © Copyright 2017. Library Journals LLC, a wholly owned subsidiary of Media Source, Inc. No redistribution permitted.
---
Book list
From Booklist, Copyright © American Library Association. Used with permission.

Benjamin's (The Swans of Fifth Avenue, 2016) latest stylish historical novel transports readers to Hollywood's early days and views the rise and fall of silent films through the friendship between one of the era's most dazzling stars, Mary Pickford, and Frances Marion, who rose to prominence as a screenwriter. Mary and Frances instantly hit it off when they meet in 1914 as young women in their twenties. For Mary, meeting Frances gives her the opportunity to have a true friend who isn't a potential rival, and for Frances, Mary helps launch her career by hiring Frances to write films for her. The two defy the expectations of male studio heads when their first big collaboration, The Poor Little Rich Girl, turns into a megahit. But as the years go by, professional jealousy and their respective romances Mary's with a married costar and Frances' with a minister turned actor strain their bond. Benjamin immerses readers in the whirlwind excitement of Mary's and Frances' lives while portraying a rarely seen character, an early woman screenwriter, and deftly exploring the complexities of female friendship.--Huntley, Kristine Copyright 2017 Booklist
---
Publishers Weekly
(c) Copyright PWxyz, LLC. All rights reserved

Benjamin (The Swans of Fifth Avenue) escorts readers through the rise and fall of Hollywood's silent film era by following a friendship and creative collaboration that helped birth the earliest movies: the fruitful, testy bond between the "scenarist" and eventual screenwriter, Frances Marion, and Mary Pickford, a troubled early star. The novel is framed by a reunion late in their lives, in 1969, but focuses on the 1910s and '20s: Marion's and Pickford's meeting, initial closeness and collaboration, marriages and tragedies, and diverging fates in Hollywood. Chapters alternate between the two women's perspectives-Marion's sections (written in first person) buzz with her idiosyncratic understanding of her place within the silent film industry, but Pickford's (puzzlingly, in third person) are used to move the narrative forward and feel lackluster in comparison. Benjamin's prose and particularly her dialogue are flatly contemporary; conversations between characters lack period nuance, and, while Marion's and Pickford's protofeminism is based on substantial research, it is telegraphed mainly in clunky 21st-century sound bites: "[men] felt that a woman among them was an aberration of nature... and assumed I was there for one purpose only." However, the heady, infectious energy of the fledgling film industry in Los Angeles is convincingly conveyed-and the loving but competitive friendship between these two women on the rise in a man's world is a powerful source of both tension and relatability. Agent: Laura Langlie, Laura Langlie Agency (Jan.) © Copyright PWxyz, LLC. All rights reserved.