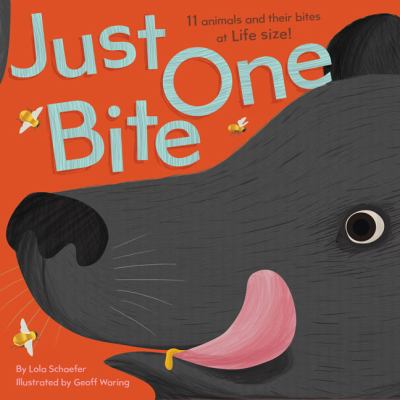 Just One Bite
by Lola Schaefer


Publishers Weekly An expert blend of art and science, this large-format picture book offers expressive life-size illustrations of 11 animals-and their meals. For a worm, that means a speck of dirt; for a Komodo dragon that is dripping saliva, it's a snake, which it gulps down after a page turn ("What a tasty treat!"). A giraffe's snout barely fits on a spread, and when a sperm whale chomps down on a giant squid (in a four-page spread), all readers see are a few teeth, some squirming orange tentacles, and the squid's enormous eye. Yum! Ages 4-8. (Oct.) (c) Copyright PWxyz, LLC. All rights reserved.
(c) Copyright PWxyz, LLC. All rights reserved
School Library Journal PreS-Gr 1-Large, stylized illustrations present a variety of animals and what they can ingest in "just one bite." From a minuscule dot of decaying vegetable matter scooped up by an earthworm to the wriggly mass of a giant squid gripped in the jaw of a toothy sperm whale (quadruple gatefolds for this one), the book helps children to envision the eating habits of critters seen mostly on TV. The brief text repeats the octopus's request for "only the tender parts, please" as he scarfs down a crunchy crab, and a Komodo dragon remarking on the "tasty treat" of a snake-snack. Mouths and mouth parts are shown life-size, leaving (in most cases) the greater part of the head and generally the body out of the strongly delineated illustrations. This is problematic in the case of those species with which youngsters are not familiar. Notes at the back of the book proffer paragraphs about the featured creatures, so parents/teachers will have further fodder for curious young minds. Not in the realistic school of Teruyuki Komiya's photographic More Life-Size Zoo or his Life-Size Aquarium (both Seven Footer Kids, 2010), but attractive, colorful, and impressively big.-Patricia Manning, formerly at Eastchester Public Library, NY (c) Copyright 2010. Library Journals LLC, a wholly owned subsidiary of Media Source, Inc. No redistribution permitted.
(c) Copyright 2010. Library Journals LLC, a wholly owned subsidiary of Media Source, Inc. No redistribution permitted.
Book list This simple, attractive gallery of animals features life-size creatures, in whole or partial views, along with a single serving of typical food. On an opening page, an earthworm devours a speck of dirt, and each subsequent spread features animals of increasing size in midmeal, from a hummingbird sipping three drops of nectar to a Komodo dragon snacking on a snake to a sperm whale swallowing a giant squid, a scene that's featured in a final, dramatic gatefold. A simple sentence describes each creature's diet, while computer-enhanced, paint-and-crayon artwork depicts the diners and their cuisine simply and clearly, complete with saliva. The animals hail from various ecosystems, and the final creature is a surprise: all-consuming microorganisms, which can eat even the largest animal until it becomes part of the earth that feeds us all. A colorful closing spread includes more information about each species, with facts about diet, number of teeth, and digestion process. Although this lacks the dramatic impact of Steve Jenkins' Actual Size (2004), it's more topically focused and just as capable of soliciting fascination.--Medlar, Andrew Copyright 2010 Booklist
From Booklist, Copyright © American Library Association. Used with permission.