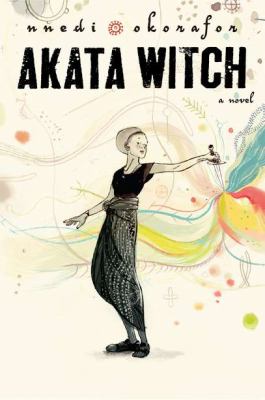 Akata Witch
by Okorafor, Nnedi


Publishers Weekly Okorafor (The Shadow Speaker) returns with another successful tale of African magic. Although 12-year-old Sunny is Nigerian, she was born in America, and her Nigerian classmates see her as an outsider. Worse, she's an albino, an obvious target for bullies and suspected of being a ghost or a witch. Things change, however, when she has a vision of impending nuclear war. Then her classmate Orlu and his friend Chichi turn out to be Leopard People-witches-and insist that she is, too. Soon Sunny discovers her spirit face ("It was her, but it felt as if it had its own separate identity, too. Her spirit face was the sun, all shiny gold and glowing with pointy rays"). Eventually, the three and an American boy named Sasha visit the dangerous, magical city of Leopard Knocks and learn from their mentors in witchcraft that they must destroy Black Hat Otokoto, a monstrous serial killer and powerful witch. Although a bit slow getting started, this tale is filled with marvels and is sure to appeal to teens whose interest in fantasy goes beyond dwarves and fairies. Ages 12-up. (Apr.) (c) Copyright PWxyz, LLC. All rights reserved.
(c) Copyright PWxyz, LLC. All rights reserved
School Library Journal Gr 6 Up-This contemporary fantasy features Sunny, 12, Nigerian by blood but born in New York City, who's been living in Nigeria since she was 9. She has West African features but is an albino with yellow hair, white skin, and hazel eyes. This mixture confuses people, and she is teased and bullied by classmates. One day while looking into a candle flame, she sees a vision of the end of the world. She discovers that her classmate Orlu; his friend Chichi; and Sasha, newly arrived from America, all have magical abilities, and they suspect that she does, too. She finds out she's of the Leopard spirit line and has the ability to cross over into the spirit world, become invisible, see the future, and manipulate time. She and her new friends must use their abilities to try to defeat a serial killer who's maiming and killing children to use to awaken a monster from the spirit world. This vividly imagined, original fantasy shows what life is like in today's Nigeria, while it beautifully explores an alternate magical reality. Sunny must deal with cultural stereotypes, a strict father who resents her being female, and older brothers who pick on her because she's better at soccer than they are. This is a consistently surprising, inventive read that will appeal to more thoughtful, patient fantasy readers because it relies less on action and more on exploring the characters' gradual mastery of their talents.-Sharon Rawlins, New Jersey State Library, Trenton (c) Copyright 2011. Library Journals LLC, a wholly owned subsidiary of Media Source, Inc. No redistribution permitted.
(c) Copyright 2010. Library Journals LLC, a wholly owned subsidiary of Media Source, Inc. No redistribution permitted.
Book list Flame has always been soothing to 12-year-old Sunny until she sees a vision of the end of the world in candlelight. Raging fires, boiling oceans and ruptured land, dead and dying people. It was horrible. And it was coming. Born in the U.S. to Nigerian parents, Sunny and her family have returned to Nigeria, where she is taunted for being both foreign-born and albino. Then Sunny learns that her classmates' jeers that she i. half-ghost, half-huma. hold truth: she is a Free Agent, descended from both Leopard People, who have magical abilities, and Lambs, who are equivalent to J. K. Rowling's dull Muggles. Along with three other Leopard kids, Sunny has been chosen to help stop a serial killer whose dark juju depends on sacrificing children and links to her apocalyptic vision. The story's pacing isn't consistently smooth, but the world Okorafor creates is spellbinding, from its fantastical plants and animals, including sculpture-buildin. wasp artist. and forceful lightning bugs ( the ones with attitude have the best light ), to its values, which are refreshing inversions of Lamb beliefs: money is earne. by gaining knowledge and wisdom. for example. Harry Potter fans will find plenty of satisfying parallels here, as will readers who know Okorafor's previous novels, especially The Shadow Speaker (2007), for which Akata Witch serves as a prequel of sorts. Okorafor's high-spirited characters, sly humor, archetypal themes, and inventive reworking of coming-of-age journeys will leave readers eager for this series starter's planned sequels. For more about Okorafor and her imagined worlds, see the accompanyin. Story behind the Stor. feature.--Engberg, Gillia. Copyright 2010 Booklist
From Booklist, Copyright © American Library Association. Used with permission.