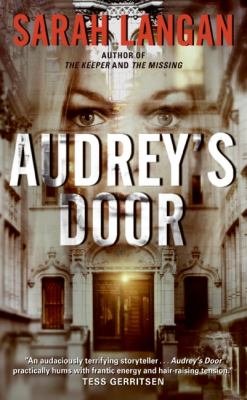 Audreys Door
by Sarah Langan


Publishers Weekly Langan's lackluster third horror novel follows emotionally stunted, mentally ill Audrey Lucas as she moves into the Breviary, which seems the perfect Manhattan home for an up-and-coming architect. Rent is cheap; the building's Chaotic Naturalism architecture is rare and intriguing; and it lets Audrey get away from her troubled first romance. After learning that the apartment's last occupant drowned her four children before committing suicide, Audrey still opts to stay, but as apparitions and the building's other residents urge her to "build a door," her sanity begins to slip. What follows is a slow, uninteresting story full of dead-end digressions, with nothing to keep a reader engaged. Langan (The Missing) knows how to write strong prose, but the story lacks punch and likely won't even appeal to fans of haunted houses. (Oct.) Copyright 2009 Reed Business Information.
(c) Copyright PWxyz, LLC. All rights reserved
Book list Langan's The Keeper (2006) garnered a Bram Stoker Award nomination, and its sequel, The Missing (2007), favorable comparisons of her to horror fiction's most established authors. Now she offers an even better, finely crafted character study of an obsessive-compulsive woman's battle with ghosts and personal demons in a haunted New York apartment building. When budding architect Audrey Lucas abandons her live-in boyfriend for a flat in the Breviary, an architectural landmark on Manhattan's Upper West Side, her newfound freedom comes at a price. Her apartment's gruesome history includes a deranged mother who drowned her children in the bathroom's claw-footed tub. Yet ghosts and the strange habits of her eccentric fellow tenants of the building are nothing compared to the horrors she unleashes within herself when, after sleepwalking during torturous dreams, she starts constructing a door in the middle of her living room. Langan's idiosyncratic blending of supernatural horror and character-driven, psychological insight proves captivating and pleasurably bone-chilling.--Hays, Carl Copyright 2009 Booklist
From Booklist, Copyright © American Library Association. Used with permission.