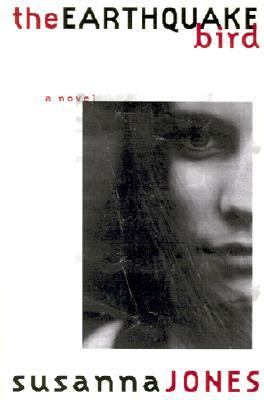 The Earthquake Bird
by Susanna Jones


Library Journal Though this small gem of a first novel revolves around a murder and is being billed as a psychological suspense, it defies ready categorization. Ten years after leaving her native Yorkshire for Tokyo, Lucy Fly, who uses her fluency in Japanese to translate technical documents, is arrested for killing her friend and countrywoman Lily Bridges, with whom she was seen arguing shortly before Lily disappeared. Lucy's story unfolds as neatly as origami, from her dysfunctional upbringing, including the death of a brother, through her sensuous love affair with Teiji, consummated shortly after their eyes meet for the first time. In concise prose perfectly suited to its setting, Jones reveals how Lucy loses both friend and lover and is at risk of losing even more. Jones, who worked as a teacher and radio script editor in Japan, captures the sense of a foreign country and culture and creates an unusually provocative protagonist. Word-of-mouth and book group interest alone would likely propel this to success. Recommended for public library fiction collections. Michele Leber, Fairfax Cty. P.L., VA Copyright 2001 Cahners Business Information.
Copyright © Reed Business Information, a division of Reed Elsevier Inc. All rights reserved.
Publishers Weekly "If Lily had never met me she would be alive now," says Lucy Fly, the narrator of Jones's intriguing debut. She is being interrogated by Tokyo police for her friend Lily's murder. Making matters worse, Lucy's lover, Teiji, has also gone missing. Ten years ago, Lucy left behind an unhappy life in Yorkshire, England, to lose herself in the exotic, anonymous bustle of a faraway city. Now in her 30s, she is content with her job as a translator and her otherwise Spartan existence, fixating on Teiji, a photographer and loner rather like herself. Then she meets Lily, who also comes from Yorkshire and is on the lam from her stalker boyfriend. At first Lucy resents this reminder of her past, but she soon grows attached to the lonely, insecure girl. Lucy is full of contradictions: though once sexually promiscuous, she is jealous of Teiji's ex-lover, a mysterious woman who only seems to exist in his photographs. Jones's pacing is skillful and deliberate as she replays the troubling moments from Lucy's past distant and recent that seem to point to her guilt (for instance, Lily is not the first person of her acquaintance to have met an unfortunate end). The descriptions of Japan's landscapes, language, people and customs are delivered with fluency and intimacy, yet with the slightly detached clarity of an expat. Some readers may find Jones's intermingling of first- and third-person narration self-conscious and distracting "What I had chosen to share with him was my very first sexual encounter, Lucy's first crunch into the apple" and the hazy ending raises more questions than it answers. But this is less a whodunit than an examination of the slippery nature of truth and memory, obsessions and betrayals, all of which Jones handles with confidence and skill. National print advertising. (Sept. 17) Copyright 2001 Cahners Business Information.
Copyright © Reed Business Information, a division of Reed Elsevier Inc. All rights reserved.
Book list A brief but moving first novel about love, alienation, and murder, set in Tokyo. The story begins as Lucy, a young British woman working as an English translator, is hauled from her office by police officers investigating the murder of her friend fellow Brit, Lily. Lucy has somehow become the chief suspect in the case, but she refuses to cooperate with the police. As she sits silently and evades their questions, her mind drifts back to her childhood, her arrival in Japan, her encounter and subsequent strange relationship with a man named Teiji, and her rocky friendship with Lily. Lucy is a somewhat prickly character, hard to get to know, but by the time she reveals the betrayal at the heart of her story, readers will be surprised to find that they care about her. Despite confusing and unnecessary switches between first-and third-person narration, this is a suspenseful and absorbing story of a stranger in a strange land as well as an interesting glimpse into contemporary Japanese culture. --Carrie Bissey
From Booklist, Copyright © American Library Association. Used with permission.