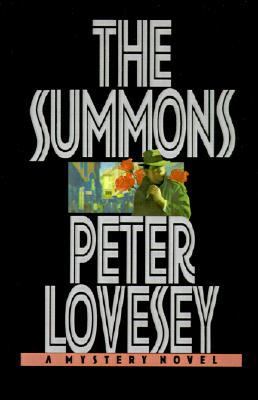 The Summons
by Peter Lovesey


Book list Lovesey does it again with another clever story featuring large, lovable copper Peter Diamond, who has been unemployed for two years as the result of a scathing verbal outburst aimed at his superiors in the Bath CID. Reduced to working in a supermarket, he yearns wistfully for life on the beat. Nonetheless, he's surprised when the Bath CID calls him out of "retirement" to help with a sensitive and difficult case. A murderer named Mountjoy, whom Diamond sent up four years earlier, has escaped from prison and taken the daughter of Bath CID's assistant chief constable as his hostage. Diamond demands--and gets--an office, swank hotel accommodations, and the help of a smart, attractive young policewoman to help track Mountjoy and get the hostage released safely. Intrepid, eccentric, prickly, and unorthodox, Diamond triumphs brilliantly and impresses the cops enough to win his old job back. Lovesey provides a riveting and ingenious plot, clever characterizations, and splendid humor, plus--best of all--the unparalleled Peter Diamond. Rates a definite thumbs-up! --Emily Melton
From Booklist, Copyright © American Library Association. Used with permission.
Publishers Weekly A resourceful convict's escape from a prison dubbed ``the British Alcatraz'' launches Peter Diamond's third case (after Diamond Solitaire). Once out of Albany Prison, John Mountjoy kidnaps the Assistant Chief Constable's daughter in order to force the Bath police to reopen his case. His demand: that the detective who put him away for murder now find the real killer. What he doesn't know is that Diamond?fat, bald and brilliant?has resigned from the force in a huff and lives in London, where his odd jobs include ``collecting supermarket trolleys from a car park.'' But his old bosses need him desperately and, to his own astonishment, he begins to be pursuaded that he had indeed goofed the first time. But a race is on between Diamond (with one helper, Detective Inspector Julie Hargreaves) and a team of trigger-happy cops who are itching to run Mountjoy down. The chase leads to a ``crusty'' (hippy) encampment, a horse funeral, a battered husband, ``buskers'' (street entertainers) and a siege of a huge old empty luxury hotel. Except for one irritating device used to delay the denouement, the action proceeds logically, with solid plot construction, savvy dialogue and great good humor. (Oct.)
Copyright © Reed Business Information, a division of Reed Elsevier Inc. All rights reserved.