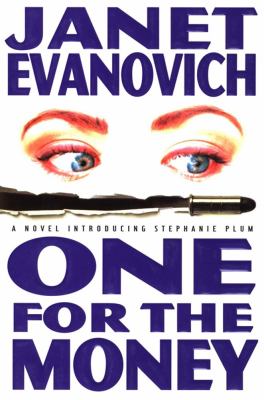 One for the Money
by Janet Evanovich


Publishers Weekly First novels this funny and self-assured come along rarely; dialogue this astute and raunchy is equally unusual. The gutsy heroine introduced here is Stephanie Plum of Trenton, N.J., a recently laid-off lingerie buyer who has no job, no car and no furniture. She does have a hamster, a deranged grandmother, two caring parents and several pairs of biking shorts and sports bras. Finding work with her cousin Vinnie, she becomes a bond hunter and scrounges money enough to buy a gun, a Chevy Nova and some Mace. Her first assignment is to locate a cop accused of murder. Joe Morelli grew up in Stephanie's neighborhood. Possessed of legendary charm, he relieved Stephanie of her virginity when she was 16 (she later ran over him with a car). In her search, Stephanie catches her prey, loses him and grills a psychotic prizefighter, the employer of the man Morelli shot. She steals Morelli's car and then installs an alarm so he can't steal it back. Resourceful and tough, Stephanie has less difficulty finding her man than deciding what she wants to do with him once she's got him. While the link between the fighter and the cop isn't clear until too late in the plot, Evanovich's debut is a delightful romp and Stephanie flaunts a rough-edged appeal. Mystery Guild alternate; author tour; film rights optioned to Tri-Star. (Sept.)
Copyright © Reed Business Information, a division of Reed Elsevier Inc. All rights reserved.
Book list Evanovich's debut introduces one of the funniest, most appealing new heroines to stroll down the mean streets in a long while. Stephanie Plum, a New Jersey native, is a laid-off discount lingerie buyer. Desperate for bucks, she decides to pursue a career as an "apprehension agent," tracking down scofflaws for her bail bondsman cousin, Vinnie. Her first mission: to bring in Joe Morelli, a cop accused of murder. Apprehending Joe is worth $10,000--plus it offers sweet revenge for Stephanie, who first encountered Joe when he introduced her to sex behind the eclair case of the Trenton bakery where she worked in high school. But bringing in a fugitive is tougher than Stephanie thought--she's pursued by a psycho nutcase, her best informants are a couple of hookers, her borrowed car is bombed, and she shoots her expensive new handbag instead of blowing away bad guy Jimmy Alpha. Evanovich's writing is as smooth, clever, and laugh-aloud funny as Robert Parker at his best, her plot is ingenious and fresh, her dialogue is breezy, bright, and witty, and gutsy, impulsive Stephanie Plum . . . ooh-la-la! What a woman! Film rights to Tri-Star and Alternate Selection of the Mystery Guild status augur a winner in the making. ~--Emily MeltonNON-BOXED REVIEWS
From Booklist, Copyright © American Library Association. Used with permission.
Library Journal A wonderful sense of humor, an eye for detail, and a self-deprecating narrative endow Stephanie Plum with the easy-to-swallow believability that accounts for her appeal as heroine. Spontaneity and financial desperation push her into the life of a bounty hunter, a job that pits her inexperience against the charming wiles of her one-time high school seducer, who is now a purported murderer. Maneuvering around the scrappy environs of Trenton, New Jersey, Stephanie runs the gauntlet of recalcitrant criminals and puts up with a match-making Jewish mother to boot. A witty, well-written, and gutsy debut.
Copyright © Reed Business Information, a division of Reed Elsevier Inc. All rights reserved.