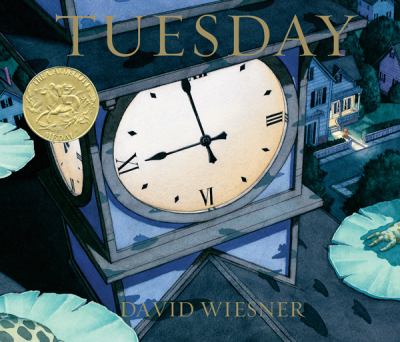 Tuesday
by David Wiesner


Publishers Weekly In this nearly wordless picture book, Wiesner ( Hurricane ; Free Fall ) again takes readers on an imaginative voyage, using everyday reality merely as a touchstone. Here, a squadron of frogs soars through the night air one Tuesday, squatting upon lilypads that they use as flying carpets. Apparently intending no harm, these mysterious visitors to a suburban development leave a minimum of disruption as evidence of their eerie flight: a few startled eyewitnesses, some scattered lilypads and a spooked dog. Wiesner's visuals are stunning: slightly surrealistic, imbued with mood and mystery, and executed with a seemingly flawless command of palette and perspective. But, perhaps because this fantasy never coalesces around a human figure, it is less accessible and less resonant than his tales that center on a child protagonist. Ages 5-up. (Apr.)
Copyright © Reed Business Information, a division of Reed Elsevier Inc. All rights reserved.
Book list Ages 4-7. While technically not a wordless picture book, this has no text other than occasional markers of time, "Tuesday evening around eight" or "11:21 p.m.," to guide viewers through one remarkable night and suggest what happens one week later. On the first night, frogs rise from their ponds on lily pads that magically float like flying carpets. Leaving their country home, the frogs fly into town, where they peek through windows, enter a house to watch television, and terrorize a dog. At dawn the magic ends, and the frogs hop back home, leaving wet lily pads in the streets to puzzle the townsfolk and the police. The following Tuesday at dusk, pigs rise into the air, like helium balloons. Then the book ends, leaving viewers to imagine the magic and mayhem to follow. As in Free Fall [BKL Je 1 88], Wiesner offers a fantasy watercolor journey accomplished with soft-edged realism. Studded with bits of humor, the narrative artwork tells a simple, pleasant story with a consistency and authenticity that make the fantasy convincing. While this trip may not take children far, its open-ended conclusion invites them to carry on the fantasy, allowing for unexpected magic in everyday, modern settings. ~--Carolyn Phelan
From Booklist, Copyright © American Library Association. Used with permission.
School Library Journal K-Gr 4-- As the full moon rises over a peaceful marsh, so do frogs on their lily pads--levitating straight up into the air and sailing off, with surpris with some laundry, hovering briefly before a TV left on. A dog chases one lone low-coasting frog, but is summarily routed by a concerted amphibious armada. Suddenly the rays of the rising sun dispel the magic; the frogs fall to ed but gratified expressions. Fish stick their heads out of the water to watch; a turtle gapes goggle-eyed. The phalanx of froggies glides over houses in a sleeping village, interrupting the one witness's midnight snack, tanglingthe ground and hop back to their marsh, leaving police puzzling over the lily pads on Main Street. In the final pages, the sun sets on the following Tuesday--and the air fills with ascending pigs! Dominated by rich blues and greens, and fully exploiting its varied perspectives, this book treats its readers to the pleasures of airborne adventure. It may not be immortal, but kids will love its lighthearted, meticulously imagined, fun-without-a-moral fantasy. Tuesday is bound to take off. --Patricia Dooley, University of Washington, Seattle
Copyright © Reed Business Information, a division of Reed Elsevier Inc. All rights reserved.