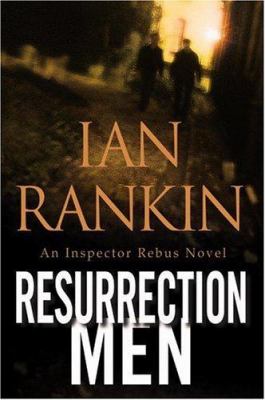 Resurrection Men
by Ian Rankin


Book list It's the perfect cover. Edinburgh Detective Inspector John Rebus, the maverick's maverick, guilty of throwing a coffee cup at his superior officer, is sent to a remedial "career counseling" course on being a better team player. But the fix is in; Rebus' real assignment is to investigate four Glasgow renegade coppers also forced to take the course. Rebus just throws cups and breaks rules; the Glaswegians may have stolen drug money. Rankin has been rightfully celebrated for his mastery of mood and character in his brooding series of "Tartan noir" procedurals. But he hasn't received enough credit for his plotting abilities. Many mystery authors run parallel plots, bringing them together in the end, but Rankin adds several layers of texture by having the plots feed off one another. Here, paralleling the career-counseling story is Rebus' unconventional, possibly illegal behavior in the resolution of an old case that is being reinvestigated as an exercise in building teamwork. Is Rebus guilty of transgressions equal to the cops he is investigating? And paralleling those stories is Rebus' colleague Siobhan Clarke's investigation of the murder of an art dealer. Rankin makes the connections between his plot strands ingeniously and subtly, adding depth not only to the story but also to the way the action reveals the souls of the characters. This installment in a truly groundbreaking series is more a straightforward procedural, less an exploration into the heart of darkness, than some of its predecessors, but it's still A-level crime writing from one of the best in the business. Bill Ott
From Booklist, Copyright © American Library Association. Used with permission.
Library Journal A top author in the UK, where he sells more than Stephen King or John Grisham, Rankin cooks up more trouble for Inspector John Rebus. This time, the disgraced Rebus is trying to solve a murder he unwittingly may have caused when he realizes that a protege's case may be related. The publisher hopes to break out Rankin with this title, so expect big publicity. Copyright 2002 Cahners Business Information.
Copyright © Reed Business Information, a division of Reed Elsevier Inc. All rights reserved.
Library Journal In his latest Inspector Rebus outing, Rankin (The Falls) demonstrates once again his mastery of intricate plotting and complex characterizations. This time, the heart of moral darkness that he explores lies not in the city of Edinburgh but in the Scottish police department itself. After throwing a cup of coffee at his superior, the maverick Rebus is sent to a remedial course at the police college with several other trouble-making cops: "Tulliallan was their last-chance saloon. They were here to be resurrected." But Rebus has a secret mission: to determine whether several of his classmates, long suspected of being corrupt, stole drug money and committed other crimes. Unfortunately for Rebus, as part of their coursework he and his fellow officers are assigned an old, unsolved murder that may have involved illegal actions by Rebus. At the same time, his protg, Detective Sergeant Siobhan Clarke, is investigating the killing of an art dealer that may or may not be connected to Rebus's assignment. Rankin skillfully juggles all the plot lines, tying them together in a logical and satisfying conclusion. Highly recommended for most mystery and crime fiction collections. [Previewed in Prepub Alert, LJ 10/15/02.]-Wilda Williams, "Library Journal" Copyright 2003 Cahners Business Information.
Copyright © Reed Business Information, a division of Reed Elsevier Inc. All rights reserved.
Publishers Weekly Rankin's moody Inspector John Rebus, unorthodox pride of the Edinburgh police, begins this latest installment in hot water. He's been sent back to the police college for "retraining," with a group of other "resurrection men," for throwing a cup of coffee at a superior in a moment of frustration. It soon becomes clear, however, that the police brass have their own agenda for Rebus. Some of his fellow officers are suspected of being on the take, and it's his mission-should he accept it-to try to infiltrate their schemes, perhaps even encourage them. Meanwhile, a murder he and the edgy Det. Sergeant Siobhan Clarke have been investigating has turned up some curious links with an apparently Teflon crime boss Rebus has been after for years. The two cases gradually come together in Rankin's skillfully woven plotting, full of his trademark tough, oblique dialogue and sudden moments of touching warmth. The book's only drawbacks are that it seems a little overextended, and that the final bloody climax lacks something in conviction, if not in tension. This isn't one of Rankin's top efforts, but even coasting, he leaves most police procedurals at the gate. (Feb. 3) Forecast: This is the first book in a new contract with a new publisher, and Little, Brown can be expected to give it an extra push, starting with a six-city author tour. Rankin has never been the top seller here that he is at home (and in Canada), but wider attention should bring sales dividends.
Copyright © Reed Business Information, a division of Reed Elsevier Inc. All rights reserved.