by Lee Child and Andrew Child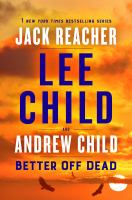 Publishers Weekly
(c) Copyright PWxyz, LLC. All rights reserved

The Child brothers' superb second collaboration (after 2020's The Sentinel) opens one night at a remote spot on the U.S.-Mexico border, where "the stranger," a large, tall man many will assume is Jack Reacher, has arrived for a meeting. A car drives up, and four men get out. When the driver asks the stranger if he has the money, he pats his back pocket. Then the driver orders the stranger into the car, to take him to someone named Michael. The stranger refuses, saying the deal was for him to be told where Michael is. The stranger gets the best of it in the ensuing fight, until a woman shows up and guns down the stranger. At the morgue, the victim, identified as Reacher, is confirmed dead by the coroner, to the satisfaction of Waad Dendoncker, "the second coming of Al Capone, only with added craziness." Flashbacks explain what led up to the violent confrontation. Smart writing, vivid action scenes, and dramatic twists mark this seamless effort. Even those for whom this is their first Reacher novel will be clamoring for more. Agent: Darley Anderson, Darley Anderson Literary (U.K.). (Oct.)
---
Book list
From Booklist, Copyright © American Library Association. Used with permission.

This is the second Jack Reacher novel written by creator Lee Child (real name: James Grant) and his brother, Andrew Child (real name: Andrew Grant). Like 2020's The Sentinel, their first team-up, the novel has some stylistic differences from Lee Child's solo novels, but those differences are purely cosmetic: slightly longer paragraphs, the more frequent repetition of the word "and" at the beginnings of sentences, dialogue that isn't quite as terse as it used to be. But the story is, as always, pure gold: Reacher gets involved in a woman's search for her missing brother and winds up going toe-to-toe with a seriously nasty guy who will gladly kill to protect his secrets. The mixture of brute-force and intellectual problem-solving is just right, and—this is the really important thing—Reacher remains the powerful, resourceful, honorable, and immensely likable man he's always been. Under the reported terms of their contract, Lee Child and Andrew Child are scheduled to write two more books together, and then Andrew will assume solo writing duties. It appears safe to say that the character will be in very good hands.
---
Library Journal
(c) Copyright Library Journals LLC, a wholly owned subsidiary of Media Source, Inc. No redistribution permitted.

Jack Reacher is back, ready to fight the good fight against a bunch of criminals who only think they can best him, and Andrew Child is back in the franchise's handover from brother Lee. The brothers' first collaboration, Better Off Dead, was a No. 1 New York Times best seller.
---
Kirkus
Copyright © Kirkus Reviews, used with permission.

Jack Reacher goes on an energy-packed tear in this latest adventure by Child & Child. Killing off your protagonist nearly from the get-go is a hell of an attention-getter, even if the reader knows it can't be true. Ex–military cop Reacher watches Michaela Fenton kill two men as she searches for her twin brother, Michael, and of course Reacher can't not get involved. Michaela feels responsible for Michael's apparent death and says, "I'd be better off dead," a sentiment Reacher discourages. The criminal she fears most "only breaks cover when someone who was a threat to him is dead," so Reacher stages his own fake murder and is shipped to the morgue. But fans of his fists needn't fret, as he has plenty of occasion to whale the bejesus out of the bad guys. Michael has been caught up in a scheme to build bombs of a curious nature. Maybe they're harmless devices designed to release red, white, and blue smoke in a "swirling patriotic cloud" in homage to Old Glory. Or perhaps the agenda is to wreak havoc on Veterans Day, because said smoke could be laced with the deadly VX nerve gas. So the plot's a bit wacky, but at least it's not trite. Reacher dispenses plenty of knuckle justice and cranium cracking, and wounded vet Michaela gets in some well-placed kicks. The writing is unmemorable, with loads of short, declarative sentences. Incomplete ones, too. No reader is going to say omigod, I wish I could write a sentence like that. Maybe Reacher should repeat high school English to remember that it's OK for tough guys to express complex thoughts now and then. He could use a love life, too. You'd think Michaela's titanium boot would be a turn-on for him, but no. Yet all of this—plausible plot or not, Pulitzer-level prose or not—won't mean much to readers just looking for an exciting escape. A fun read for the right niche of thriller readers. Copyright © Kirkus Reviews, used with permission.