by Amy Kaufman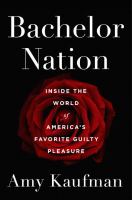 Publishers Weekly
(c) Copyright PWxyz, LLC. All rights reserved

Los Angeles Times entertainment journalist Kaufman's eye-opening exposť of the reality TV show The Bachelor offers criticism as well as praise as it explores the reasons why the show has been watched by millions since its 2002 premier. A Bachelor aficionado, Kaufman unpacks the keys to the show's success, even while being barred from ABC press calls and numerous interviews because her coverage of the show in the Times was deemed too negative. Kaufman unveils plenty of unpalatable practices, such as an overabundance of alcohol on the set (though drinking is not mandated), editing/manipulating footage to create a story line that wasn't present during the filming, and sequestering contestants in a mansion "bubble" in which communication with the outside world is banned. Many viewers watch The Bachelor, Kaufman posits, because they are mesmerized by the romantic, chivalrous stories of "brave" singles baring their hearts and souls in search of a perfect mate. Kaufman intersperses her narrative with commentary from various celebrity fans, such as Amy Schumer, who says: "It's kind of awful to watch the show. And it's the thing I most look forward to every week. It's fucked up." Kaufman shares little-known details about the show (hair and makeup styling are offered on the first night only; contestants must apply their own fake eyelashes) that will no doubt fascinate Bachelor fans. (Feb.) © Copyright PWxyz, LLC. All rights reserved.
---
Library Journal
(c) Copyright Library Journals LLC, a wholly owned subsidiary of Media Source, Inc. No redistribution permitted.

With this debut, Kaufman weaves information about television history and the origins of reality TV with specific details about how the long-running dating game show The Bachelor emerged. She pays close attention to how this success can and should provide viewers with ways of interrogating the intersections between feminism and popular culture. By interspersing sections titled "Why I'm a Fan" between all of the chapters, the author creates a dialog between real viewers and her theoretical analysis. A key strength of this book is Kaufman's circumspection: she is both a fan and critic of the show, who belongs to "a group of women [trying] to understand the inscrutable, wicked, brilliant thing that is love." As such, she never discounts the program's hold on its viewers or sets herself apart as smarter than consumers. VERDICT Essential for fans of pop culture, this book could play an important role in courses on feminism and gender studies. It's also a fascinating and fun read for anyone who wants to think about how and why viewers continue to tune into shows like The Bachelor.-Emily Bowles, Univ. of Wisconsin, Madison © Copyright 2018. Library Journals LLC, a wholly owned subsidiary of Media Source, Inc. No redistribution permitted.
---
Book list
From Booklist, Copyright © American Library Association. Used with permission.

Is there a more compelling train wreck than 25 attractive people vying for the affections of 1 member of the opposite sex? The popularity of long-running dating shows is reflected in the fact that the franchise's legions of fans are referred to as Bachelor Nation. Kaufman, a staff writer at the Los Angeles Times, helps make sense of the enthusiasm for the almost always unsuccessful relationships built on The Bachelor and The Bachelorette by presenting an undiluted examination of the shows' problematic appeal the decidedly unfeminist Prince Charming narrative; creatively edited footage that suits the producers' story line; the fact that it has taken 15 years and 34 seasons to have a woman of color as the bachelorette (though there has never been a nonwhite bachelor). Unlike the authors of other reality-television tomes, Kaufman is clearly a fan. She drops insider allusions and imbues her book with a playful vibe without shying away from the tough questions. This may not entice any new fans, but conflicted viewers who enjoy the recaps posted on sites like Jezebel will enjoy Kaufman's perspective.--Maguire, Susan Copyright 2018 Booklist