by Lauren Groff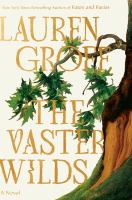 Library Journal
(c) Copyright Library Journals LLC, a wholly owned subsidiary of Media Source, Inc. No redistribution permitted.

There's an essential friction to Groff's (Matrix) writing, which leaves readers torn between inhaling her compelling, shape-shifting narratives and slowing down to savor her stunning language line; with its lean narrative foundation, this work tends toward the latter reading experience. The story follows a young girl's flight from an early colonial U.S. settlement owing to murky circumstances, the full scope of which is slowly shaded in through dreams, fevers, and memories. Groff revels in this primal place, detailing the myriad brutalities and iniquities of an unforgiving colonial-era wild (society included). In one moment, all is goop and grime and gruesomeness, while the next might trace the grace and beauty of the natural world. The novel's structure is lightly Odyssean, as the young girl encounters everything from bears to Jesuits to smallpox, and while hers is fundamentally a journey from rather than toward, it's an unknown future. But while the spareness does afford readers the space to relish Groff's mastery of pen, it also results in stretches that can feel lost in the language, with the author's typical psychological acuity giving way and the novel's narrative waypoints eventually beginning to feel a little unvaried. VERDICT A fittingly adventurous effort from one of our best writers, but one yielding the growing sense that we've seen that tree before.—Luke Gorham
---
Book list
From Booklist, Copyright © American Library Association. Used with permission.

Groff's seventh book, a captivating survival story, starts off running. A teenage girl, "bony and childish small," flees north on a winter night, leaving behind the diminished and starving settlement of others not of this place. She has nothing but a small bag of supplies on her person and a map, once viewed over a man's shoulder, in mind. In time, readers learn the girl's names, her circumstances as an orphan in a distant city, the hellish journey that brought her to this world, how she became more than a servant to her mistress and the woman's disabled daughter, who she loved and cared for; and the reason, ultimately, for the girl's flight. The work of survival overtakes all, though, as the girl battles weather, injury, and foes animal and human, real and imagined. In the wilderness, she finds gifts and warnings, depravity and beauty, boundless desperation and pinpointed clarity. Inspired by the "starving time" of 1609 Jamestown, this wholly enveloping book has appeal similar to that of Groff's enthusiastically celebrated Matrix (2021): deep examinations of faith, dominion, and human nature; Groff's seemingly joyfully related, seamless period prose; and the time-collapsing sense of reading a text channeled directly from the mind of a long-ago-living, breathing woman facing extraordinary circumstances.
---
Publishers Weekly
(c) Copyright PWxyz, LLC. All rights reserved

Groff's extraordinary latest (after Matrix) tracks the life of an adolescent servant girl who flees a Jamestownesque settlement in colonial America and sets out across the wilderness. Traveling in winter, the unnamed narrator sustains herself by hunting and gathering. Despite the harsh conditions, she delights in the natural scenery, which Groff depicts with wrenching beauty ("she saw in the dim and silvery light the wind lifting lighter snow and sculpting it into a shining city with rooftops and chimneys and a steeple and even the smoke of fires merrily ascending from the chimneys toward heaven"). Through the girl's memories, the reader learns she was adopted at four from a parish poorhouse in England by a well-off woman and her husband and was tormented by the couple's older son. Several years later, the husband dies and the woman marries an ambitious minister. They force the girl to accompany them to the New World and care for their newborn baby. The colony turns out to be a godforsaken place wracked by illness, lack of food, and violent confrontations with Indigenous people. There are many exciting episodes—the narrator encounters a bear, a wolf, and an unruly former Jesuit priest who also subsists in the wild—and the staggering ending reveals the details surrounding her escape. Groff builds and maintains suspense on multiple levels, while offering an unflinching portrayal of her heroine's desperation and will to survive. This is a triumph. Agent: Bill Clegg, Clegg Agency. (Sept.)
---
Kirkus
Copyright © Kirkus Reviews, used with permission.

This historical fever dream of a novel follows the flight of a servant girl through the Colonial American wilderness, red in tooth and claw. As in her last novel, Matrix (2021), Groff's imaginative journey into a distant time and place is powered by a thrumming engine of language and rhythm. "She had chosen to flee, and in so choosing, she had left behind her everything she had, her roof, her home, her country, her language, the only family she had ever known, the child Bess, who had been born into her care when she was herself a small child of four years or so, her innocence, her understanding of who she was, her dreams of who she might one day be if only she could survive this starving time." Those onrushing sentences will follow the girl, "sixteen or seventeen or perhaps eighteen years of age," through the wilderness surrounding the desperate colony, driven by famine and plague into barbarism, through the territory of "the powhatan and pamunkey" to what she hopes will be "the settlements of frenchmen, canada," a place she once saw pointed out on a map. The focus is on the terrors of survival, the exigencies of starvation, the challenges of locomotion, the miseries of a body wounded, infected, and pushed beyond its limit. What plot there is centers on learning the reason for her flight and how it will end, but the book must be read primarily for its sentences and the light it shines on the place of humans in the order of the world. Whether she is eating baby birds and stealing the fluff from the mother's nest to line her boots, having a little tea party with her meager trove of possessions, temporarily living inside a tree trunk that comes with a pantry full of grubs (spiders prove less tasty), or finally coming to rest in a way neither she nor we can foresee, immersion in the girl's experience provides a virtual vacation from civilization that readers may find deeply satisfying. The writing is inspired, the imaginative power near mystic, but some will wish for more plot. Copyright © Kirkus Reviews, used with permission.