by Michael Connelly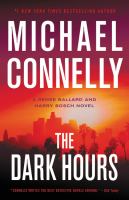 Publishers Weekly
(c) Copyright PWxyz, LLC. All rights reserved

In bestseller Connelly's stellar fourth novel featuring LAPD Det. Renée Ballard (after 2019's The Night Fire), Ballard leads the way on two separate cases: the shooting death of Javier Raffa, a former gang member, and the search for a pair of serial rapists dubbed the Midnight Men. A recovered bullet connects the Raffa shooting to an old case of Connelly's main series lead, Harry Bosch. Though Bosch is retired, he willingly helps out and ends up playing a key role in investigating both cases. Meticulous about actual police procedure, Connelly makes the fundamentals of detective work engrossing while providing plenty of suspense and action, including one genuinely shocking scene of violence involving Ballard. He also excels at imbuing his narratives with social commentary, a talent showcased in this entry, which opens with Ballard and her reluctant police partner, Lisa Moore, parked near a homeless encampment on New Year's Eve 2020 ("It had been a bad year with the pandemic and social unrest and violence"). Along the way to a surprising, even hopeful ending, Connelly avoids polemics while exploring such issues as internal disaffection among the police (including Ballard's ambivalence about her career), misogyny and domestic violence, and the political divide that resulted in the January 6 insurrection at the Capitol. This is a masterpiece. Agent: Philip Spitzer, Philip G. Spitzer Literary. (Nov.)
---
Library Journal
(c) Copyright Library Journals LLC, a wholly owned subsidiary of Media Source, Inc. No redistribution permitted.

On a raucous New Year's Eve in Hollywood, a friendly neighborhood auto shop owner lies dead in the midst of a street party, and LAPD Detective Renée Ballard quickly determines that he was not killed by a stray bullet among those traditionally shot skyward in celebration as midnight chimes. She also sees connections to an unsolved murder once investigated by the legendary detective Harry Bosch, and soon they are teaming up to solve the cases together. With a 750,000-copy first printing.
---
Kirkus
Copyright © Kirkus Reviews, used with permission.

Meet today's LAPD, with both good and bad apples reduced to reacting to crimes defensively instead of trying to prevent them, unless of course they're willing to break the rules. New Year's Eve 2020 finds Detective Renée Ballard, survivor of rape and Covid-19, partnered with Detective Lisa Moore, of Hollywood's Sexual Assault Unit, in search of leads on the Midnight Men, a tag team of rapists who assaulted women on Thanksgiving and Christmas Eve without leaving any forensic evidence behind. The pair are called to the scene of a shooting that would have gone to West Bureau Homicide if the unit weren't already stretched to the limit, a case that should be handed over to West Bureau ASAP. But Ballard gets her teeth into the murder of body shop owner Javier Raffa, who reportedly bought his way out of the gang Las Palmas. The news that Raffa's been shot by the same weapon that killed rapper Albert Lee 10 years ago sends Ballard once more to Harry Bosch, the poster boy for retirements that drive the LAPD crazy. Both victims had taken on silent partners in order to liquidate their debts, and there's every indication that the partners were linked. That's enough for Ballard and Bosch to launch a shadow investigation even as Ballard, abandoned by Moore, who's flown the coop for the weekend, works feverishly to identify the Midnight Men on her own. As usual in this stellar series, the path to the last act is paved with false leads, interdepartmental squabbles, and personal betrayals, and the structure sometimes sways in the breeze. But no one who follows Ballard and Bosch to the end will be disappointed. A bracing test of the maxim that "the department always comes first. The department always wins." Copyright © Kirkus Reviews, used with permission.
---
Book list
From Booklist, Copyright © American Library Association. Used with permission.

The fourth Renée Ballard and Harry Bosch novel is the best yet, both because Ballard has evolved into one of crime fiction's richest, most complex characters and because Connelly takes an unflinching look at policing in the post–George Floyd era. Still working LAPD's graveyard shift, Ballard is trying to survive the traditional New Year's Eve "rain of lead"—celebrants firing guns into the air, oblivious to where the bullets come down—when a man is killed at an outdoor party, not from a deadly raindrop, it quickly becomes apparent, but from an assailant's gun. After establishing a link between this murder and a decades-old killing on which the retired Harry Bosch worked, Ballard turns to Bosch, who takes a low-key mentoring role, for help. Meanwhile, though, she has another, equally difficult case: tracking a pair of serial rapists who have been terrorizing women in various Hollywood neighborhoods. Ballard's determined efforts to "get of my ass and work cases" (long a Bosch mantra) have earned her all variety of enmity from both supervisors and fellow cops, especially when the murder case points toward a former cop. Sadly, staying on your ass and out of trouble has become the department's unofficial policy. As always, Connelly salts the story with intriguing details of how detectives follow a convoluted investigative trail, but here he adds a deeply troubling subtext: Can good cops survive in a system so deeply broken?