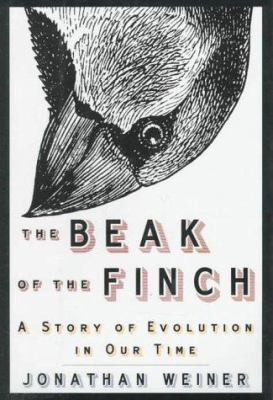 The Beak of the Finch
by Jonathan Weiner
Library Journal
(c) Copyright 2010. Library Journals LLC, a wholly owned subsidiary of Media Source, Inc. No redistribution permitted.
9780679400035
This is an account of Peter and Rosemary Grant's research on the microevolutionary modifications that occur in finch beaks as they adapt to environmental changes. Analysis of data collected from 18,000 birds on a Galápagos island over 21 years conclusively demonstrates that the pressures of natural selection are currently altering wild populations. Also, by incorporating others' work on present-day evolutionary variations in fish, insects, and microbes, Weiner (The Next One Hundred Years, LJ 2/1/90) challenges the concept of evolution as a time-frozen process. Harmonized with the writings of Charles Darwin, this book provides the facts to bring alive evolution as an ongoing process. Highly recommended for general collections, but informed readers would do better with Peter Grant's own Ecology and Evolution of Darwin's Finches (Princeton Univ. Pr., 1986).-Frank Reiser, Nassau Community Coll., Garden City, N.Y. (c) Copyright 2010. Library Journals LLC, a wholly owned subsidiary of Media Source, Inc. No redistribution permitted.
Choice
Copyright American Library Association, used with permission.
9780679400035
A noted long-term study of Darwin's finches has become recognized by many as the best evidence of evolution occurring now in the natural world. A husband-and-wife team of biologists from Princeton, Peter and Rosemary Grant, followed generations of the finches in the Galapagos Islands for more than two decades, and this book is the story of their discoveries. Weiner is a talented writer of popular science; his accounts of this extraordinary investigation weave the current research findings into a broader evolutionary matrix--from the historical accounts of Darwin's own work to modern molecular biology (e.g., DNA changes in the finches). The book also reviews other current studies on observable evolution by scientists throughout the world and provides an insightful reflection on modern human redirection of evolutionary trends. The accounts blend science and personalities in a very readable way. Widely praised and recommended work. General; undergraduate; graduate. C. Leck; Rutgers, The State University of New Jersey
Book list
From Booklist, Copyright © American Library Association. Used with permission.
9780679400035
"We will now discuss in a little more detail the struggle for existence," Darwin said, and that's what Weiner does, too, in his account of the study of Galapagos finches undertaken by Peter and Rosemary Grant some 20 years ago. The Grants set up camp on Daphne Major, an island of sheer cliffs and no freshwater except for what falls from the sky, but such inhospitable features ensured that finches would follow their life cycles without human interference. The Grants have documented some 13 species of "Darwin's finches," including one that is flightless; one that cohabits with marine iguanas; one, the vampire finch, that lives on blood; one that is entirely vegetarian; and one, the cactus finch, that makes tools with its beak. The Grants caught and banded thousands of finches and traced their elaborate lineage, enabling them to document the changes that individual species make, primarily to their beaks, in reaction to the environment. (During prolonged drought, for instance, beaks may become longer and sharper, to reach the tiniest of seeds.) Even more fascinating, the Grants have documented changes in DNA among their birds, suggesting a refutation of creationism, if one were needed, and leading Weiner to declare that "Darwin did not know the strength of his own theory. He vastly underestimated the power of natural selection. Its action is neither rare nor slow. It leads to evolution daily and hourly, all around us, and we can watch." An engaging account of a seminal study that introduces the reader to Darwin and to the dedicated, tireless biologists who have proved him right. ~--John Mort
Publishers Weekly
(c) Copyright PWxyz, LLC. All rights reserved
9780679400035
For more than 20 years Rosemary and Peter Grant have divided their time between Daphne Major in the Galapagos and Princeton University. On the tiny island they have intensively studied six species of Darwin's ground finches; at Princeton, they analyze their collected data. In following their work Weiner ( Planet Earth ) tells a remarkable story of continuing evolution, and of the painstaking research that reveals it. The Grants documented two dramatic changes in the finches: after a drought in 1977 reduced their numbers by 85%, the surviving birds became larger, in weight, wingspan and beak; after El Nino's floods in 1983, the trend was reversed. The Grants found that during food shortages the difference of one millimeter in the size of a finch's beak could determine its life or death. In his eloquent and richly informative report, Weiner surveys as well research on evolution being done on crossbills, sticklebacks and fruit flies. Illustrations. 40,000 first printing; BOMC, QPB , History Book Club and Natural Science Book Club alternates. (May) (c) Copyright PWxyz, LLC. All rights reserved