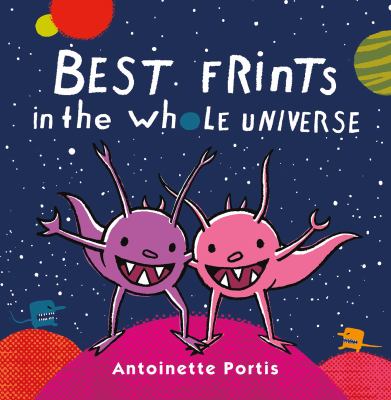 Best Frints in the Whole Universe
by Antoinette Portis


Publishers Weekly On Planet Boborp, "teef are long and tempers are short," yet two lookalike pink and purple aliens "have been best frints since they were little blobbies." Portis (Not a Box) pictures the frints, Omek and Yelfred, as bubblegum-tinted spheres with otterlike tails, spindly limbs, and prehensile antennae. The frints' volatility mirrors Earthling rivalries, despite a winking refrain that we have no such drama "here on planet Earth." When Yelfred receives a spossip (spaceship) for his blurfday, Omek takes it for a spin and schmackles it to pieces. Yelfred bites Omek's tail off ("Luckily, on Boborp, tails grow back") and calls him a "double-dirt bleebo." After cooling down, they fix the vehicle with "taypo" and a "sturpler," restoring their frintship. Portis tinkers gleefully with familiar language and provides a Boborpian glossary on the endpapers, just in case. Her dot-matrix layers of retro color add dimension to the simple shapes and close-up images, and her flamboyant misspellings and soundalike words let beginning readers in on the sly jokes while crafting an all-too-knowing portrait of what frintship often looks like. Ages 4-7. Agent: Deborah Warren, East West Literary. (July) © Copyright PWxyz, LLC. All rights reserved.
(c) Copyright PWxyz, LLC. All rights reserved
School Library Journal K-Gr 2-Employing eye-catching imagery and space lingo that will have children and their adults giggling, Portis emphasizes that friendship can be tricky yet rewarding. Yelfred and Omek, residents of the planet Boborp, have been pals (or "frints") since they were young. Though these two buddies love to engage in a variety of activities together (they give out "blurfday" gifts, play games such as "eye ball in the peedle pit"-which consists of flinging an eyeball through a sea of gaping maws-and eat "yunch"), they are quick to anger (which never happens on Earth, the author wryly points out). Yelfred and Omek's interactions do turn a bit rough (harsh words are exchanged, and a tail is gnawed off), but "frintship" prevails in the end. Portis has crafted a witty and energetic work that will appeal to children's sense of fun. There's a Tim Burton-esque feel to the zany, dramatic illustrations-Yelfred and Omek are spherical creatures with antennae, tails, clawlike arms and legs, and pointy "teef")-but also an adorable factor that will endear them to readers. Saturated colors, textured backgrounds, and a pared-down design, full of thick outlines and simple shapes, are ideal for the title's intended audience. These easily vexed alien pals capture the emotional ups and downs that children experience, and Portis's creative take adds a fun twist on a well-trod topic. VERDICT Those seeking materials on friendship, especially for storytimes, should add this wonderfully wacky take on the subject.-Mahnaz Dar, School Library Journal © Copyright 2016. Library Journals LLC, a wholly owned subsidiary of Media Source, Inc. No redistribution permitted.
(c) Copyright Library Journals LLC, a wholly owned subsidiary of Media Source, Inc. No redistribution permitted.