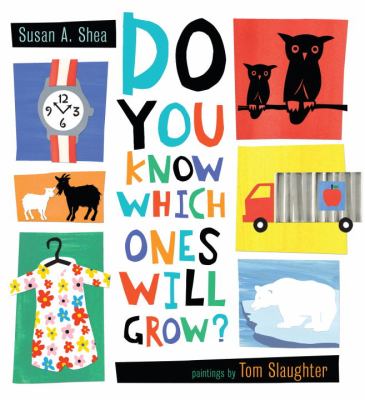 Do You Know Which Ones Will Grow?
by Susan A. Shea


Book list This playful picture book asks children to consider which things grow and which stay the same. The rhyming text pairs two choices on each double-page spread. Lifting the large, die-cut flap on the right-hand page reveals the answer. The questions suggest analogies, but their absurdity is often amusing. If an owlet grows and becomes an owl, / can a washcloth grow and become . . . lift up the page flap a towel. After posing a series of questions where the answer is inevitably no, Shea turns the tables by asking. If a joey grows and becomes a kangaroo, / can a baby grow and become . . . pull down the page flap you. Slaughter's striking illustrations, collages of solid-color and painted papers, use simple forms and bold colors to create animals and objects that are easy to identify. With its eye-catching design and interactive text, this picture book is fun to read aloud and fine for introducing science units on the concept of living and nonliving things.--Phelan, Caroly. Copyright 2010 Booklist
From Booklist, Copyright © American Library Association. Used with permission.
School Library Journal PreS-Gr 2-This standout concept book is engaging, fun, and interactive. It begins by explaining that, "Some things grow/like you and me./Others stay the way/they're made./Until they crack, or rust,/or fade." Simple, spare rhyming text flows smoothly with illustrations that follow on pages that include die cuts and flaps; "If a kitten grows,/becomes a cat,/can a cap grow and become. a hat?" The answers are provided at the end. Layers of painted paper collage are done in a brightly colored palette, including end pages with bold paintbrush stripes in primary and secondary colors. White space is creatively used, but the flaps and die cuts steal the show. For example, the spread featuring snakes in saturated black, yellow, and green pops on the white background. A pickup truck grows to be a rig when the flap is opened. The flatbed becomes the trailer enhanced with a pattern that resembles the American flag. Readers will be challenged by the questions and some unusual words for the names of a few baby animals: a kit, an owlet, a kid, and a joey. This clever title begs for multiple readings and will be a favorite in storytimes or in one-on-one settings. Spot-on.-Anne Beier, Clifton Public Library, NJ (c) Copyright 2011. Library Journals LLC, a wholly owned subsidiary of Media Source, Inc. No redistribution permitted.
(c) Copyright 2010. Library Journals LLC, a wholly owned subsidiary of Media Source, Inc. No redistribution permitted.
Publishers Weekly Slaughter's brightly colored cut-paper shapes and newcomer Shea's verse recall favorites of 50 years ago-a feeling reinforced by this book's matte pages, blocky images, and fun-to-flip gatefolds. "If a duckling grows/ and becomes a duck,/ can a car grow and become..." reads the text on facing pages; children will be able to guess what's coming even before the gatefold opens-"a truck?" Slaughter (Which Way?) revels in paint-box primaries, pushing reds, greens, yellows, and blues up against each other for maximum visual charge. The gatefolds break in interesting places-halfway down a garment hanging on a hanger, for example, turning a floral sweater into a full-length coat-and contain the occasional die-cut, too. Shea's verses scan consistently and gracefully. "YES to ducks, bears, and owls./ NO to trucks, chairs, and towels," she writes, reinforcing the idea that living things grow but inanimate objects don't. The beauty of the rhymes is that they teach a lesson children already know; children will relish the fun of being sure of all the answers, and they'll love Shea's tongue-in-cheek tone. Ages 4-up. (May) (c) Copyright PWxyz, LLC. All rights reserved.
(c) Copyright PWxyz, LLC. All rights reserved