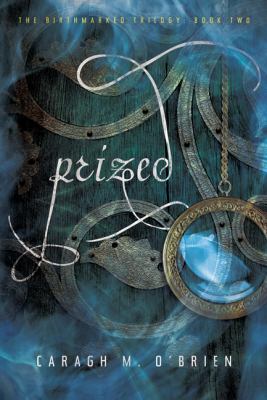 Prized
by O'Brien, Caragh


School Library Journal Gr 9 Up-O'Brien's follow-up to Birthmarked (Roaring Brook, 2010) begins with Gaia Stone at a lonely oasis in the wasteland, far from the Enclave she escaped. She and her infant sister, Maya, are rescued by Peter, a young man from a settlement called Sylum, which, in its own way, is as strange and harsh a place as the Enclave. Women are only one tenth of the population but they rule over the men, many of whom are sterile. Any physical contact between an unmarried man and a woman is considered attempted rape, and the man can be confined to the stocks, imprisoned, or exiled. The last means death, because everyone who leaves Sylum for more than a few days becomes fatally ill. Gaia is immediately considered to be guilty of placing her sister in harm's way and Maya is taken from her. As a woman and the community's only midwife, though, she is also highly valued. To complicate matters further, Leon has followed her from the Enclave. Gaia must sort through her feelings for him as well as those for Peter and his sensitive brother, Will. Cryptic messages left by her grandmother give both a warning and a glimmer of hope. In all, O'Brien has done a marvelous job of building a society with intricate human and environmental elements. Gaia is a very human heroine, often uncertain of her course but always determined to do right as best she can. Although this is undeniably a dystopia, it is filled with romance and beauty, but familiarity with the first book is crucial to understanding this one.-Eric Norton, McMillan Memorial Library, Wisconsin Rapids, WI (c) Copyright 2012. Library Journals LLC, a wholly owned subsidiary of Media Source, Inc. No redistribution permitted.
(c) Copyright 2010. Library Journals LLC, a wholly owned subsidiary of Media Source, Inc. No redistribution permitted.
Book list Picking up quickly on the heels of Birthmarked (2010), this second book in the trilogy feels almost like an entirely new story. Gaia and her baby sister stumble upon the Sylum, a strange village where women are in short supply (only one in 10 babies is female) and yet hold all the power. Gaia enters into a battle of wits with the Matrarc, Sylum's feared leader, and with two potential loves she begins to investigate the science of what is behind the town's weird biology. Fans of Kristin Cashore's Graceling books should know about O'Brien's writing: these are smart, tough romances.--Kraus, Daniel Copyright 2010 Booklist
From Booklist, Copyright © American Library Association. Used with permission.