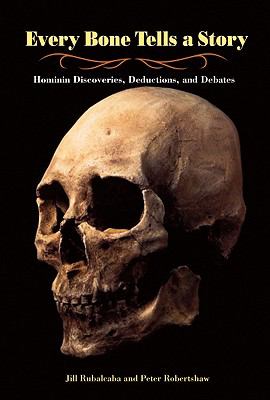 Every Bone Tells a Story
by Jill Rubalcaba and Peter Robertshaw


School Library Journal Gr 8 Up-The authors have taken an unusual approach in this look at members of the human family tree. Rather than sketch all of human prehistory, they focus on four particular discoveries, noting the deductions that scientists have made and the debates that these conclusions have sparked. The finds that they detail are Turkana Boy, Lapedo Child, Kennewick Man, and Otzi the Iceman. This approach will be helpful for students as it makes clear the type of work done by paleontologists, archaeologists, and their ilk. There is a lot of painstaking effort and a lot of careful thought. It is particularly interesting to learn what sorts of debates an activity as innocent-seeming as archaeology can engender. Full-color photos, an occasional map or diagram, and an illustrated time line enhance the presentation. As they have focused on only four individuals, readers may miss their personal favorites, such as "Lucy" and the recently discovered Homo floresiensis, nicknamed "hobbits." There are also some scientific points that aren't explained as well as they might be. In their discussion of genetics, for example, the authors refer to C, G, A, and T without ever explaining that these are the initials of cytosine, guanine, adenine, and thymine. While there are a few print sources from recent years, many go back 10 years or more. Despite a few quibbles, this is an excellent look at an engaging area of science that should find broad readership and use.-Eric Norton, McMillan Memorial Library, Wisconsin Rapids, WI (c) Copyright 2010. Library Journals LLC, a wholly owned subsidiary of Media Source, Inc. No redistribution permitted.
(c) Copyright 2010. Library Journals LLC, a wholly owned subsidiary of Media Source, Inc. No redistribution permitted.
Book list Archaeology and paleontology are the exciting focus in this accessible account of four hominins who lived long before recorded history. The authors explore not only how and where their remains were discovered but also what they tell scientists today about how they lived and why they died out. Were Neanderthals brainy or brutish? Man or beast? When did language begin? The informal style never oversimplifies the gripping science and technology, and the authors raise as many questions as they answer in the detailed chapters, which cover each of the four fossils and the research and debate that surround them. The design is lackluster but readable, with clear type on thick paper and occasional full-color illustrations of sites, skeletons, and scientists at work. Meticulous source notes and bibliographies (including Web sites) at the end of each chapter will stimulate further research. Adults will want this, too.--Rochman, Hazel Copyright 2010 Booklist
From Booklist, Copyright © American Library Association. Used with permission.