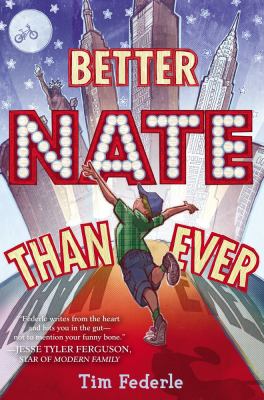 Better Nate than ever
by Tim Federle.


Book list In this funny and insightful story, the dreams of many a small-town, theater-loving boy are reflected in the starry eyes of eighth-grader Nate. When Nate hops a Greyhound bus to travel across Pennsylvania to try out for the Broadway-bound musical based on the movie E.T., no one but his best friend, Libby, knows about it; not his athletic brother, religious father, or unhappy mother. Self-reliant, almost to an inauthentic fault, he arrives in Manhattan for the first time and finds his way into the audition with dramatic results, and when his estranged actress/waitress aunt suddenly appears, a troubled family history and a useful subplot surface. Nate's emerging sexuality is tactfully addressed in an age-appropriate manner throughout, particularly in his wonderment at the differences between his hometown and N.Y.C., a world where guys . . . can dance next to other guys who probably liked Phantom of the Opera and not get threatened or assaulted. This talented first-time author has made the classic Chorus Line theme modern and bright for the Glee generation.--Medlar, Andrew Copyright 2010 Booklist
From Booklist, Copyright © American Library Association. Used with permission.
Publishers Weekly Federle's hilarious and heartwarming debut novel follows 13-year-old musical theater-loving Nate Foster on his meticulously choreographed overnight getaway to New York City to audition for E.T.: The Musical. Catchy chapter titles framed in marquee lights ("This'll Be Fast: You Might as Well Meet Dad, Too") and running gags, like Nate's use of Broadway flops as epithets ("Moose Murders it all to tarnation!"), add to the theatrical atmosphere as Nate breathlessly narrates his backstory and real-time adventures. Federle (who has himself worked on Broadway) combines high-stakes drama with slapstick comedy as Nate travels by Greyhound bus-dying cellphone and dollars in hand-determined to get to the audition, conceal his lack of chaperone, and compete in the cutthroat world of child actors and stage parents. Nate's desperation to escape his stifling home environment, instant love affair with the city, questions about his sexuality, and relationship with his dysfunctional but sympathetic family add emotional depth. Federle's supporting characters affirm theater's "no small roles" adage, and E.T. references abound-like Elliott's bicycle in the film, this book soars. Ages 9-13. Agent: Brenda Bowen, Sanford J. Greenburger Associates. (Feb.) (c) Copyright PWxyz, LLC. All rights reserved.
(c) Copyright PWxyz, LLC. All rights reserved
School Library Journal Gr 5-8-Irrepressible 13-year-old Nate Foster is certain that stardom awaits, as soon as he can leave his stifling life in small-town Jankburg, Pennsylvania, behind. Using his ever-loyal best friend, Libby, as an alibi, he sneaks away to New York City to audition for E.T.: The Musical. Nate and Libby have an endearing habit of using the names of Broadway flops as stand-ins for foul language. A madcap adventure featuring bossy receptionists, cutthroat fellow performers, and wacky casting directors follows. With the help of an understanding aunt, Nate remains goofy and upbeat in the face of constant criticism and rejection. A fun and suspenseful ending will leave readers guessing whether Nate scores the part or not. Federle's semiautobiographical debut explores weighty issues such as sibling rivalry, bullying, religious parents, and gay or questioning teens with a remarkably lighthearted and humorous touch totally appropriate for young audiences.-Madigan McGillicuddy, Atlanta-Fulton Public Library, Atlanta, GA (c) Copyright 2013. Library Journals LLC, a wholly owned subsidiary of Media Source, Inc. No redistribution permitted.
(c) Copyright 2010. Library Journals LLC, a wholly owned subsidiary of Media Source, Inc. No redistribution permitted.