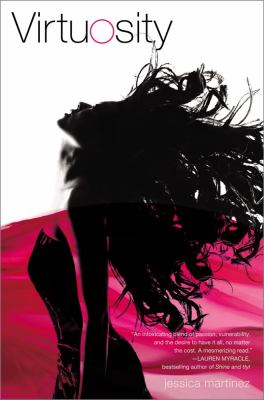 Virtuosity
by Martinez, Jessica


School Library Journal Gr 8 Up-In this riveting novel, 17-year-old violin prodigy Carmen Bianchi is forced to question everything she believes when she falls hard for a rival musician. At first, she is, with her manager mother's encouragement, completely focused on her career and winning the Guarneri Competition. On her mother's orders, Carmen even takes prescription pills to steady her nerves during performances. When she meets Jeremy King, her main competition, he helps her see beyond her own sheltered world. This is a beautifully written story, especially the descriptions of the pressures and pleasures of Carmen's life as a professional musician. Readers will sympathize as she deals with a controlling parent, high-stakes situations, ethical choices, and uncertainties over Jeremy's romantic motives. Carmen's mother seems less fully developed, but the budding relationship between the teens is realistic, and the Chicago setting adds to the story. The portrayal of Carmen's world, in which every performance is terrifying and even one stumble could end her career, is unique and convincing. The novel builds to a satisfying finish as the competition arrives and Carmen discovers a terrible secret. Even readers without much interest in music will enjoy this exceptional novel.-Miranda Doyle, San Francisco Unified School District (c) Copyright 2011. Library Journals LLC, a wholly owned subsidiary of Media Source, Inc. No redistribution permitted.
(c) Copyright 2010. Library Journals LLC, a wholly owned subsidiary of Media Source, Inc. No redistribution permitted.
Book list Carmen Bianchi knows she will be a finalist for the Guarneri, an international violin competition. She has sacrificed a normal childhood and adolescence for her beloved violin, and her dedication has paid off with a Grammy Award and world renown. Although she can tamp down her nerves with increasing doses of Inderal, an antianxiety drug, she can't tamp down her growing fear that her only competitor, Jeremy King, is the better violin player. And once Jeremy kisses her, she has a new concern: did he do it because he cares about her or because he wants to distract her from the goal they share winning the Guarneri? First-time novelist Martinez has a gift for making classical violin accessible and understandable to even the most tone-deaf reader. The twists in the pair's love affair, combined with the turns in their careers, elevate this novel from sweet romance to a complex drama. Decisions are never easy, but will the cost of winning or losing be too high? For older readers of The Mozart Season (1991).--Bradburn, Frances Copyright 2010 Booklist
From Booklist, Copyright © American Library Association. Used with permission.