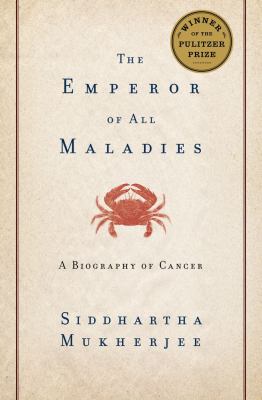 The Emperor of All Maladies: A Biography of Cancer
by Siddhartha Mukherjee


Publishers Weekly Mukherjee's debut book is a sweeping epic of obsession, brilliant researchers, dramatic new treatments, euphoric success and tragic failure, and the relentless battle by scientists and patients alike against an equally relentless, wily, and elusive enemy. From the first chemotherapy developed from textile dyes to the possibilities emerging from our understanding of cancer cells, Mukherjee shapes a massive amount of history into a coherent story with a roller-coaster trajectory: the discovery of a new treatment-surgery, radiation, chemotherapy-followed by the notion that if a little is good, more must be better, ending in disfiguring radical mastectomy and multidrug chemo so toxic the treatment ended up being almost worse than the disease. The first part of the book is driven by the obsession of Sidney Farber and philanthropist Mary Lasker to find a unitary cure for all cancers. (Farber developed the first successful chemotherapy for childhood leukemia.) The last and most exciting part is driven by the race of brilliant, maverick scientists to understand how cells become cancerous. Each new discovery was small, but as Mukherjee, a Columbia professor of medicine, writes, "Incremental advances can add up to transformative changes." Mukherjee's formidable intelligence and compassion produce a stunning account of the effort to disrobe the "emperor of maladies." (Nov.) (c) Copyright PWxyz, LLC. All rights reserved.
(c) Copyright PWxyz, LLC. All rights reserved
Book list *Starred Review* Apparently researching, treating, and teaching about cancer isn't enough of a challenge for Columbia University cancer specialist Mukherjee. He was also moved to write a biography of a disease whose name, for millennia, could not be uttered. The eminently readable result is a weighty tale of an enigma that has remained outside the grasp of both the people who endeavored to know it and those who would prefer never to have become acquainted with it. An unauthorized biography told through the voices of people who have lived, toiled, and, yes, died under cancer's inexorable watch. Mukherjee recounts cancer's first known literary reference hence its birth, so to speak in the teachings of the Egyptian physician Imhotep in the twenty-fifth century BCE, in which it is clear that Imhotep possessed no tools with which to treat what appears to be breast cancer. His cryptic note under Therapy: There is none. Throughout cancer's subsequent years, many more physicians and scientists with names both familiar and obscure attempted and occasionally succeeded in deciphering or unlocking keys to many of the disease's mysteries. Alas, this is not a posthumous biography, but it is nonetheless a surprisingly accessible and encouraging narrative.--Chavez, Donna Copyright 2010 Booklist
From Booklist, Copyright © American Library Association. Used with permission.