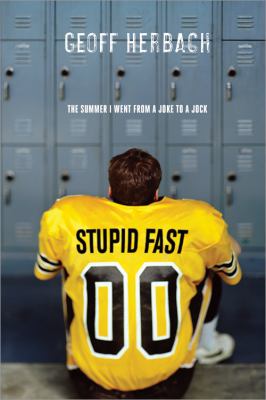 Stupid Fast
by Herback, Geoff


Publishers Weekly Adult author Herbach (The Miracle Letters of T. Rimberg) delivers an alternately fascinating and awkward novel that sometimes seems to exist in denial of its own characters. Felton Reinstein's late puberty during his sophomore year turned him into an incredible runner, which has landed him on both the track and football teams. Socially isolated, he is resigned to a lonely summer with his unpredictable widowed mother and piano-prodigy younger brother. But things become complicated as Felton meets beautiful new girl Aleah, he is drawn into the football team's summer workouts, and his home life disintegrates. Herbach's story would be typical but for a narrative style that clearly paints Felton as developmentally disabled ("I sweated in my tight jeans because it was summer. I smelled the pee-smell of my own athlete's body"). This offers potential, but it's wasted by the denial practiced by practically everyone he deals with, including his mother (who, admittedly, has problems of her own). Instead of coming across as an actual element of his character, Felton's narrative voice reads as merely "quirky," and it creates issues that aren't adequately addressed. Ages 12-up. (June) (c) Copyright PWxyz, LLC. All rights reserved.
(c) Copyright PWxyz, LLC. All rights reserved
Book list Everything changes for Felton Reinstein during his fifteenth year. A growth spurt and the discovery of latent athletic talent tilt how the world views the teen, who thinks of himself as a little slow on the uptake. Hitherto unpopular and the object of jokes, suddenly Felton, who narrates the story in a hyper, slightly astounded voice, is going out for football, taken under the wing of one of his school's more popular jocks. Meanwhile, a paper route leads him to meet (and become sweet on) a musical prodigy, whose father is a visiting professor at the local college. If all this weren't enough, things at home are falling apart: Felton's mom has a breakdown as she tries to face Felton's maturation and younger brother's persistent probe of their father's suicide many years earlier. Suffice it to say, nothing is quite what Felton thinks. In this struggling and often clueless teen, Herbach has created an endearing character coming to terms with his past and present in a small, well-defined Wisconsin town.--Cruze, Kare. Copyright 2010 Booklist
From Booklist, Copyright © American Library Association. Used with permission.
School Library Journal Gr 9 Up-In his sophomore year, Fenton Reinstein's voice drops, he begins to grow hair all over his body, and he becomes "stupid fast." Previously indifferent to sports, he instantly becomes a star sprinter and is touted as the next savior of the football team before he has ever played a down. All is not entirely well, however. Fenton's only real friend, Gus, has gone to Venezuela with his family for the summer, and he has to take over Gus's paper route, a job he hates. More ominously, the teen's always-quirky mother, Jerri, has retreated into her own world and has left Fenton and his sweet, needy younger brother, Andrew, to basically fend for themselves. Fenton is also haunted by the early-childhood trauma of discovering his father's body after the man committed suicide. When African-American teen piano virtuoso Aleah Jennings and her father move into Gus's house for the summer, things begin to look up for Fenton. After an awkward beginning, the two establish a relationship that has its ups and downs, but helps to sustain Fenton as his mother's mental illness rages out of control. He and his sibling finally find the courage to contact their father's mother, who turns out not to be the shrewish ogre their mother described, but a loving, responsible adult who sees the boys through their crisis. The novel has some loose ends and needless plot contrivances, but in the end Fenton's sarcasm, anxiety, self-doubt, thoughtfulness, and compassion carry the day and perfectly capture the voice of his generation.-Richard Luzer, Fair Haven Union High School, VT (c) Copyright 2011. Library Journals LLC, a wholly owned subsidiary of Media Source, Inc. No redistribution permitted.
(c) Copyright 2010. Library Journals LLC, a wholly owned subsidiary of Media Source, Inc. No redistribution permitted.