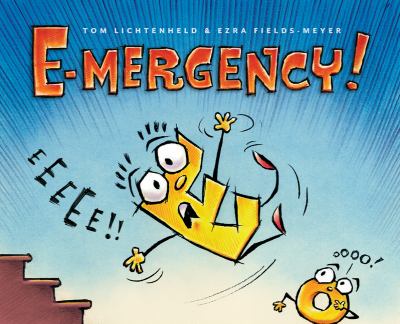 E-mergency!
by Tom Lichtenheld


Publishers Weekly Picture books often get by on a single comic device, but Lichtenheld (Goodnight, Goodnight Construction Site) and his collaborator, 14-year-old Fields-Meyer, pack their alphabet book with jokes-it's like Chicka Chicka Boom Boom on steroids. Imagine what would happen if the letter E broke its leg and O had to be tapped for substitute duty ("Big Troo Falls On Toony Car!" reads a newspaper headline). The co-authors invent dozens of puns, hiding them in the corners of pages (P is the source of potty jokes, Z is forever tired) and assembling acronyms ("The EMTs rushed in with an IV, ready to perform CPR"). The letters often assemble words on the spot (after E falls, some chums spell "OUCH!") and, in a grand finale of self-reference, they insist that the narrator play by the book's rules and quit using the letter E ("That's bottor!" says N, mollified). Though some of the jokes will be clear only to older brothers and sisters, readers who are in the thick of learning spelling rules will pore over the pages. Comprehensive, witty entertainment from A to Z. Ages 4-8. (Nov.) (c) Copyright PWxyz, LLC. All rights reserved.
(c) Copyright PWxyz, LLC. All rights reserved
Book list *Starred Review* In this nontraditional, rascally, downright hilarious alphabet book, all 26 letters live together in one big house. One morning as the letters are descending the stairs to breakfast, the letter E takes a tumble and is rushed to the ER for some TLC. During E's extended recuperation, the letters decide that another vowel must temporarily take E's place. The letter O is chosen, causing chaos as people around the world try to make sense of all the misspelled mayhem. Spolling tost today! shouts a school billboard. Car horns go Boop Boop! And the injured E listlessly holds a balloon that reads Got Woll Soon. The jokes fly fast and furious, and it will take several reads to catch them all. Because of this detail, it's a book ideal for single readers or smaller groups, who will have to puzzle out a lot of the weird-looking words. It's surprisingly challenging, so give this to children who have a clear sense of letter sounds and wordplay. The ink, pastels, and colored pencil illustrations keep things busy, busy, busy, completing this package that readers will return to ovor and ovor. (Get it?) Recommended to fans of Chris Van Allsburg's The Z Was Zapped (1987).--Sawyer, Linda Copyright 2010 Booklist
From Booklist, Copyright © American Library Association. Used with permission.
School Library Journal K-Gr 2-All the letters of the alphabet live together in one big, happy house. One morning as they race down the stairs to breakfast, E goes too fast and falls, injuring one of her appendages. After the EMTs arrive, bringing TLC and carrying an IV, E is admitted to the hospital. To properly recover she can't be used, so O is picked to fill in on her behalf. Despite news reports, congressional hearings, reader boards, a spot on Oprah, and a world tour to spread the news to use O instead of E, the injured letter is still not getting better. In a surprise worthy of Jon Stone's The Monster at the End of This Book (Western Publishing, 1971), the letters suddenly turn on the narrator and demand that he stop using E as he is why she's not getting better. After a page of tricky-to-read prose, E is healed and ready to go back to work just in time for thE End. The text tells only part of the story. The detailed cartoons of the letters in action with a plethora of speech balloons take the story to a whole other level of humor. This artwork takes a funny story and makes it hilarious to the right readers/listeners, of which there will be many. Kids and adults will get more of the sly humor each time they read this book. Warning: It's not easy to read all those words with the E replaced by an O.-Catherine Callegari, Gay-Kimball Library, Troy, NH (c) Copyright 2011. Library Journals LLC, a wholly owned subsidiary of Media Source, Inc. No redistribution permitted.
(c) Copyright 2010. Library Journals LLC, a wholly owned subsidiary of Media Source, Inc. No redistribution permitted.