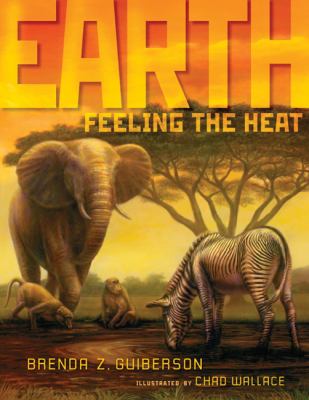 Earth: Feeling the Heat
by Brenda Z. Guiberson


Book list From a polar bear in the Arctic to a butterfly on a Californian prairie, this handsome picture book shows the threat of global warming, one creature at a time. An orangutan in Borneo escapes a wildfire in its dried-out forest, but afterward, it can't find food or shade. An orange-spotted filefish searches for a meal of coral polyps among the bleached skeleton of the too-warm Great Barrier Reef. On each double-page spread, the detailed oil paintings pair with rhythmic text ( Glaciers are melting, seas rising ), and each grim scenario ends with the same urgent question: Who can help? The climactic closing spread gives the reassuring answer: People can! An accompanying world map shows the habitat of each creature and emphasizes the sense of global connections among all living beings, while a final page features practical suggestions for kids to practice conservation in their daily lives.--Rochman, Hazel Copyright 2009 Booklist
From Booklist, Copyright © American Library Association. Used with permission.
School Library Journal Gr 1-3-Full-page, full-color illustrations demonstrate the plight of many animals throughout the world brought about by climate changes. From polar bears unable to reach hunting grounds, to the Alaska caribou and the South African long-nosed fly, each of a dozen animals is shown as affected by changes in habitat, food supply, migration patterns, and drought as a result of global warming. On every page, readers are asked, "Who can help?" with the final answer, "People can!" Unfortunately, the energy-saving suggestions that are offered do not directly address the animals in crisis. The picture-book format is effective and lovely to look at, but the bleak outlook suggested for these creatures may be too grim for the intended audience without accompanying adult discussion or possible positive remedies.-Eva Elisabeth VonAncken, Trinity-Pawling School, Pawling, NY Copyright 2010 Reed Business Information.
(c) Copyright 2010. Library Journals LLC, a wholly owned subsidiary of Media Source, Inc. No redistribution permitted.
Publishers Weekly Gently urging, emotionally resonant text describes the impacts of global warming-"Because the Arctic keeps getting warmer... the [polar] bear can't gain the weight she needs to raise a cub"-followed by variations on a plaintive refrain: "Who can help the polar bear?" The sickly palette of Wallace's oil paintings emphasizes a planet in need: wildfire threatens an orangutan; a water hole dries up. In the end, three children plant a tree on a hill: "a caribou, a pika, and even a Bengal tiger cannot stop the warming. Who can? People can!" Ages 4-8. (Mar.) Copyright 2010 Reed Business Information.
(c) Copyright PWxyz, LLC. All rights reserved