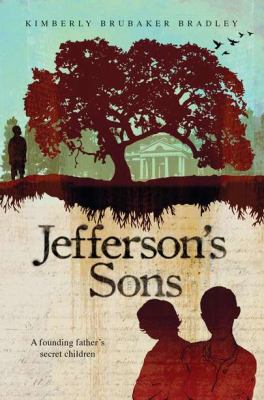 Jefferson's Sons: A Founding Father's Secret Children
by Kimberly Brubaker Bradley


School Library Journal Gr 6-9-This well-researched fictional look at the lives of the sons of Thomas Jefferson and his slave Sally Hemings echoes with the horrors of slavery and the contradictions within the author of the Declaration of Independence and an admired champion of liberty. Bradley depicts Sally Hemings as a determined woman who accepts her role as a slave and secret lover of the president while she focuses on the promised freedom for her children. The story is told mainly by her three sons, Beverly, Madison, and Eston. Hemings never allows her children to forget that they are slaves while they live at Monticello and makes sure that they are aware of slavery's repulsiveness, despite their somewhat special status. She plans to have her light-skinned son Beverly and daughter Harriet go out in the world and "pass" as white people, but this will require that they never acknowledge her or their darker family members again. Eventually financial difficulties grow, and Jefferson is forced to sell many possessions, including 130 slaves. Maddy and Eston are given their freedom at the age of 21, but Sally Hemings was never set free. Bradley's fine characterization and cinematic prose breathe life into this tragic story.-Renee Steinberg, formerly at Fieldstone Middle School, Montvale, NJ (c) Copyright 2011. Library Journals LLC, a wholly owned subsidiary of Media Source, Inc. No redistribution permitted.
(c) Copyright 2010. Library Journals LLC, a wholly owned subsidiary of Media Source, Inc. No redistribution permitted.
Book list Don't you ever call him Papa. This gripping novel captures the viewpoints of the young children President Thomas Jefferson fathered with one of his slaves, Sally Hemings. Growing up in a cabin at Monticello, the children are told not to mention their father. The president is kind to Sally's oldest son, Beverly, and encourages him to play the violin. Jefferson promises the children they will be freed at 21. Beverly and his sister, Harriet, look white. Could they pass? But what about their brother, Maddy, who is dark-skinned? Could they leave him behind? The detailed history may overwhelm some readers. But told from the children's naive viewpoints, first Beverly's, then Maddy's, then that of little Peter, another young slave who is beloved by the Hemings family, the young innocents' elemental questions raise fundamental issues for the reader. How could founding father Jefferson sell off Maddy's best friend? What does it mean, all people are created equal?--Rochman, Hazel Copyright 2010 Booklist
From Booklist, Copyright © American Library Association. Used with permission.