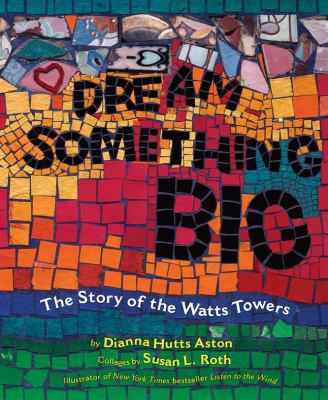 Dream Something Big: The Story of the Watts Towers
by Dianna Hutts Aston


Book list Simon Rodia, Sam to his neighbors, spent more than 34 years building and decorating elaborate sculptural towers on a triangular lot in the Watts neighborhood of L.A. Affixing collected bits of throwaway glass and pottery to a hand-wrought, curvilinear structure of rebar, mesh, and cement, Sam erected an enduring homage to the extraordinary, everyday beauty of community. Aston tells the story from the point of view of a young neighborhood girl, who grows up watching the towers evolve and then shares their construction with her own children. Her winding, poetic language evokes the strange beauty of the sculptures themselves, occasionally bending across the page in broken arcs. Roth's jumbled mixed-media collages echo Rodia's ebullient ingenuity while evoking a creative exuberance all their own. An author's note offering more information about the towers' construction and directions for building miniature towers of pipe cleaners, magazine clippings, and foam round out this impressionistic look at an iconic American landmark. Children will find inspiration in Rodia's personal, quiet call to creation.--Barthelmess, Thom Copyright 2010 Booklist
From Booklist, Copyright © American Library Association. Used with permission.
School Library Journal Gr 2-5-This stunningly illustrated picture book succeeds on every level. Chronicling the story of Italian immigrant Simon Rodia, the creative genius who built the famed Watts Towers in Los Angeles, the simple yet elegant text brings the man's process to light through the narration of a fictional girl who measures her own life against the construction of the towers. Uncle Sam, as he was known in the neighborhood, worked in a tile factory by day and scavenged for treasure in trash heaps and along the nearby railroad tracks in his spare time. Using scrap tile, broken pottery, bits of glass, seashells, rebar, wire mesh, and cement, Rodia realized his dream through slow but steady work, raising his towers nearly 100 feet high without nails, bolts, or even a ladder. Adding dimension and richness to the story, Roth's splendid multimedia collages both honor and illuminate his work. Combining paper, ceramics, fabric, and photography, the artwork not only reinforces the look of the towers but also the technique of bringing together disparate bits to create a cohesive and beautiful whole. One particularly moving page uses black-and-white photographs of similarly shaped Italian towers as a backdrop, exploring the idea that immigrants bring their culture with them. This is a book that is filled with possibilities; it is an artistic work that could easily serve as a springboard for a multitude of discussions/projects about creativity, artistry, imagination, conservation, repurposing, perseverance, and the influence and importance of immigrants. A worthwhile author's note and instructions to craft a small Watts Tower are appended.-Teri Markson, Los Angeles Public Library (c) Copyright 2011. Library Journals LLC, a wholly owned subsidiary of Media Source, Inc. No redistribution permitted.
(c) Copyright 2010. Library Journals LLC, a wholly owned subsidiary of Media Source, Inc. No redistribution permitted.
Publishers Weekly Aston pays tribute to the creative genius of an Italian immigrant and tile worker who, in the 1920s, begins a unique project on his Watts, Calif., property that takes 34 years to complete. Simon Rodia uses only rebar, cement, broken tiles, shells, and other found items to build towering spires, some almost a hundred feet tall, decorated with mosaic designs. A fictional neighbor girl, Marguerite, provides lyrical first-person narration as she watches the towers take shape throughout her childhood. The subject lends itself perfectly to the collage illustrations. Employing mostly paper, but also bits of pottery, cloth, clay and string, Roth stunningly recreates bold, stylized versions of the towers. This book beautifully illuminates a little-known story of imagination and perseverance that resulted in a national landmark. Ages 5-8. (Aug.) (c) Copyright PWxyz, LLC. All rights reserved.
(c) Copyright PWxyz, LLC. All rights reserved