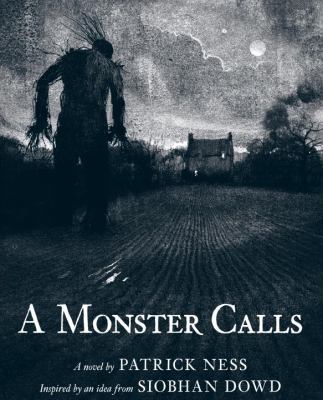 A Monster Calls: A Novel
by Patrick Ness


School Library Journal Gr 7 Up-Conor O'Malley, 13, is having a difficult time. At school, he copes with bullying and loneliness. His father is living in America with his new family, and at home he has to contend with a recurring nightmare that torments him every night. His mother is seriously ill and undergoing painful cancer treatments. One night, he wakes up to a voice calling his name. An ancient, treelike monster, hovering over him like a sleeping giant, has come to tell him three stories. When the monster is done, he wishes for Conor to tell him a fourth tale, wanting the scariest thing of all-the truth. The wise monster's ambiguous tales contain unexpected outcomes and help demonstrate that not all stories have happy endings, but they can be more important than anything else if they carry the truth. Conor has to accept the truth about his mother's prognosis and letting go, even if it means losing her. Only then can he start to heal, without destroying himself in the process. This is an extraordinarily moving story inspired by an idea from author Siobhan Dowd before she passed away. Kay's shadowy illustrations slither along the borders of the pages and intermingle with text to help set its dark, mysterious mood, while Conor is often seen as a silhouette. A brilliantly executed, powerful tale.-Krista Welz, North Bergen Public Library, NJ (c) Copyright 2011. Library Journals LLC, a wholly owned subsidiary of Media Source, Inc. No redistribution permitted.
(c) Copyright 2010. Library Journals LLC, a wholly owned subsidiary of Media Source, Inc. No redistribution permitted.
School Library Journal Gr 7 Up-With an absent father and a mother dying of cancer, Conor O'Malley has recurring nightmares that are becoming more and more real, until they transform into a monster that tells him three stories and demands one in return. Eerie illustrations help set the mood in this haunting tale of acceptance, letting go, and healing. (Sept.) (c) Copyright 2011. Library Journals LLC, a wholly owned subsidiary of Media Source, Inc. No redistribution permitted.
(c) Copyright 2010. Library Journals LLC, a wholly owned subsidiary of Media Source, Inc. No redistribution permitted.
Book list *Starred Review* After the stylistic feats and dumbfounding originality of Ness' Chaos Walking trilogy, this follow-up effort comes as something of a surprise an earthbound story concocted from a premise left behind by the late Siobhan Dowd. As Conor watches his mother succumb to cancer, he is pummeled by grief, anger, isolation, helplessness, and something even darker. At night, when he isn't trapped in a recurring nightmare too terrible to think about, he is visited by a very real monster in the form of a giant yew tree. The monster tells Conor three ambiguous, confusing stories, then demands a final one from the boy, one tha. will tell me your truth. Meanwhile, Conor's mom tears through ineffective treatments, and Conor simmers with rage. Everybody always wants to have a talk lately. But all that really happens is a lot of pussyfooting around the central, horrible fact that his mother is dying, and what does the monster mean abou. the trut. anyway? A story with such moribund inevitability could easily become a one-note affair or, worse, forgettable but small, surgically precise cuts of humor and eeriness provide a crucial magnifying effect. Moreover, Ness twists out a resolution that is revelatory in its obviousness, beautiful in its execution, and fearless in its honesty. Kay's artwork keeps the pace, gnawing at the edges of the pages with thundercloud shadows and keeping the monster just barely, terribly seeable. Sidestepping any trace of emotional blackmail, Ness shines Dowd's glimmer into the deepest, most hidden darkness of doubt, and finds a path through.--Chipman, Ia. Copyright 2010 Booklist
From Booklist, Copyright © American Library Association. Used with permission.
Publishers Weekly In his introduction to this profoundly moving, expertly crafted tale of unaccountable loss, Ness explains how he developed the story from a set of notes left by Siobhan Dowd, who died in 2007 before she had completed a first draft. "I felt-and feel-as if I've been handed a baton, like a particularly fine writer has given me her story and said, 'Go. Run with it. Make trouble.' " What Ness has produced is a singular masterpiece, exceptionally well-served by Kay's atmospheric and ominous illustrations. Conor O'Malley is 13. His mother is being treated for cancer; his father, Liam, has remarried and lives in America; and Conor is left in the care of a grandmother who cares more for her antique wall clock than her grandson. This grim existence is compounded by bullies at school who make fun of his mother's baldness, and an actual nightmare that wakes Conor, screaming, on a recurring basis. Then comes the monster-part human, part arboreal-a hulking yew tree that walks to his window just after midnight and tells three inscrutable parables, each of which disappoints Conor because the good guy is continually wronged. "Many things that are true feel like a cheat," the monster explains. In return for the monster's stories, Conor must tell his own, and the monster demands it be true, forcing Conor, a good boy, a dutiful son, to face up to his feelings: rage and, worse still, fear. If one point of writing is to leave something that transcends human existence, Ness has pulled a fast one on the Grim Reaper, finishing the story death kept Dowd from giving us. It is a story that not only does honor to her memory, it tackles the toughest of subjects by refusing to flinch, meeting the ugly truth about life head-on with compassion, bravery, and insight. Ages 12-up. (Sept.) (c) Copyright PWxyz, LLC. All rights reserved.
(c) Copyright PWxyz, LLC. All rights reserved