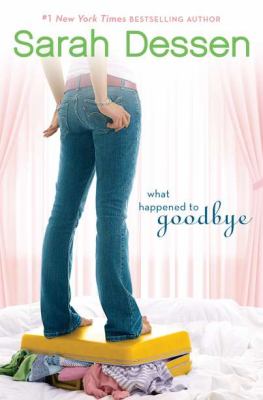 What Happened to Goodbye
by Dessen, Sarah


Publishers Weekly Dessen's 10th novel is another smoothly written journey of self-discovery. Mclean Sweet, named for "the all-time winningest basketball coach of Defriese University," has moved four times in two years, following her father's job as a restaurant consultant. Each time she moves she reinvents herself, not so much to try on a new identity but to rid herself of the original one-only daughter of a couple whose divorce was an awful, public scandal. It becomes clear that although Defriese basketball was her father's obsession, Mclean's idol was her mother, and Mclean's lasting anger adds an emotional punch to a long narrative that doesn't otherwise have much of an arc. It will delight Dessen's passionate fans that Mclean and her father have landed in Lakeview (capital of Dessenland) and that the action ricochets between there and familiar (fictional) beach towns. As Mclean figures out how to make peace with her mother, she relies on friends made at both school and at the restaurant her father is trying to save. Dessen delivers another cast of authentic, likable characters, struggling to make sense of the world. Ages 12-up. (May) (c) Copyright PWxyz, LLC. All rights reserved.
(c) Copyright PWxyz, LLC. All rights reserved
Book list Mclean and her father have just moved to yet another town; the constant motion is an escapist strategy since her parents' acrimonious divorce, and usually, while her father tries to turn around another failing restaurant, Mclean attends the local high school and sports her newest identity. Here in Lakeview, though, Mclean suddenly feels like herself not a cheerleader, a drama geek, or a joiner, but Mclean, a new girl who gradually makes friends and may even have a boyfriend. Roots are dangerous, though, since her father will inevitably want to leave again. The novel nimbly weaves together familiar story lines of divorce, high-school happiness and angst, and teen-identity struggles with likable, authentic adult and teen characters and intriguing yet credible situations. The topics may be well-trod territory, but Dessen once again offers a substantive, well-crafted exploration of a teen's life that will deeply satisfy her legions of fans.--Bradburn, France. Copyright 2010 Booklist
From Booklist, Copyright © American Library Association. Used with permission.
School Library Journal Gr 7 Up-Mclean Sweet, 17, has moved four times in the last three years. Surviving the scandalous breakup of her parents' marriage, she chooses to live with her father, a restaurant fixer who is assigned to a new project every few months. Although her mother, remarried and with three-year-old twins, tries regularly to reconnect with her, McLean is angry and resentful and will hardly have a conversation with her. In each town, she takes on a different name (some version of Elizabeth) and persona, and keeps personal relationships at arm's length. Now, in Lakeview, McLean is making friends in spite of herself. She is befriended by her neighbor and his close-knit group of buddies, and her resistance to making real and lasting connections starts to dissolve. Working together on an intricate model of the community is a not-so-subtle metaphor for Mclean building an emotional community for herself. When it's time for her dad to move on, she must decide where she will live for the final few months before heading off to college. Her ability to come to terms with the concessions and compromises people make in every meaningful relationship allows her to accept her fate as her dad is sent to another job and her mom moves (back) into her heart. These characters are real and interesting and the story line unrolls smoothly and with purpose. There's a slight lack of tension, however, that keeps it from being truly compelling. Still, Dessen's fans will be happy to devour this latest offering and will surely be able to relate to one of several engaging and evolving teenagers that populate the novel.-Karen Elliott, Grafton High School, WI (c) Copyright 2011. Library Journals LLC, a wholly owned subsidiary of Media Source, Inc. No redistribution permitted.
(c) Copyright 2010. Library Journals LLC, a wholly owned subsidiary of Media Source, Inc. No redistribution permitted.