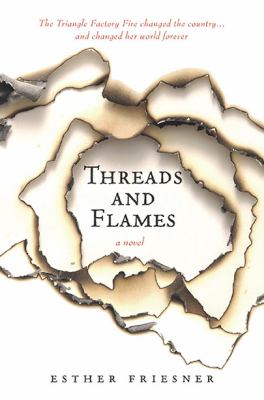 Threads and Flames
by Friesner, Esther


School Library Journal Gr 6-9-Raisa, a 13-year-old Jewish girl, leaves a Polish shtetl to journey to America to join her sister, Henda, who has mistakenly been told that Raisa is dead. The crossing to America, the frightening chaos of arrival, poor working conditions, and the Triangle Shirtwaist Factory fire of 1911 form the novel's framework. Raisa makes some close friends on the ship and she takes responsibility for Brina, a child whose mother dies during the crossing. Raisa's overwhelming loneliness as she tries to adjust and find her sister permeates the story. The frustration she feels and the seemingly insurmountable challenge of succeeding spills dramatically from the pages despite some contrived twists and turns. When Raisa seeks some rest by entering a synagogue, she meets Gavrel Kamensy, an aspiring rabbinal student just a few years her senior. He brings her home and she and Brina become boarders with his family. The Kamensys' warmth and accepting nature allow Raisa the chance to look for work and begin her English studies. She feels lucky to get a job at the Triangle Shirtwaist Factory, but the drudgery and unfair working conditions repeatedly foreshadow the horrendous event to follow. Gruesome details of workers jumping from the window in order to escape the pervasive flames are horrific. Scores die, many are physically injured, and still others, like Gavrel, suffer mentally. Anguish and frustration of looking for survivors and identifying the dead seem hopeless, but Raisa remains brave and focused. This would be a fine companion to Margaret Peterson Haddix's Uprising (S & S, 2007) and Mary Jane Auch's Ashes of Roses (Holt, 2002).-Renee Steinberg, formerly at Fieldstone Middle School, Montvale, NJ (c) Copyright 2010. Library Journals LLC, a wholly owned subsidiary of Media Source, Inc. No redistribution permitted.
(c) Copyright 2010. Library Journals LLC, a wholly owned subsidiary of Media Source, Inc. No redistribution permitted.
Book list What would become of the little birds if their mama did not push them out of the nest? Glukel reassures Raisa, who makes the daunting decision to leave her Polish shtetl for America and try to join her sister, Henda. Leaving the nest means setting out on a grueling overseas voyage, facing fear of rejection at Ellis Island, and embarking on a desperate search for shelter and work. Adding to the challenge, Raisa takes over the care of a small child whose mother died on the ship and Henda seems nowhere to be found. Friesner's sparkling prose makes the immigrant experience in New York's Lower East Side come alive: from working at the Triangle Shirtwaist Company and attending night school to becoming part of a close-knit community with hope for the future. The devastating Triangle Shirtwaist Factory fire tragedy resonates heartbreakingly, and although the happy ending is contrived, readers will turn the pages with rapt attention to follow the characters' intrepid, risk-all adventures in building new lives.--O'Malley, Anne Copyright 2010 Booklist
From Booklist, Copyright © American Library Association. Used with permission.