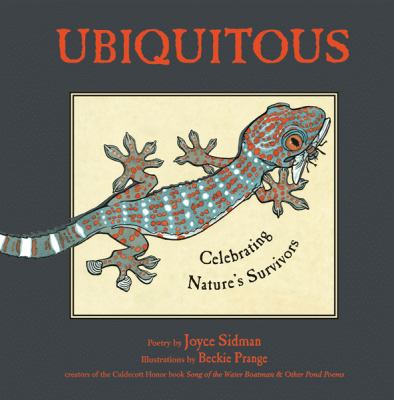 Ubiquitous: Celebrating Natures Survivors
by Joyce Sidman


Publishers Weekly The team behind the Caldecott Honor-winning Song of the Water Boatman pays tribute to biologically successful species-from mollusks and lichens to dandelions and sharks-in poems that appear in order of each animal's first appearance on earth (a striking, mazelike time line puts the billions of years into perspective). Sidman's words are vivid and affectionate-about single-celled diatoms, she writes, "Curl of sea-/ green wave/ alive/ with invisible jewels/ almost/ too beautiful/ to eat," and Prange's expressive linocuts capture the character of each animal. Fascinating factual information appears on each page; the graceful integration of science and art results in a celebratory story of survival. Ages 6-9. (Apr.) (c) Copyright PWxyz, LLC. All rights reserved
(c) Copyright PWxyz, LLC. All rights reserved
School Library Journal Gr 1-6-This volume of beautifully illustrated poems investigates the natural world, from the single-celled bacteria and diatom to the ever-present ant and dandelion. Well-researched science facts are paired with vivid poems to describe how these very special life-forms avoided extinction to become nature's survivors. The book begins 4.6 billion years ago with a newly formed Earth and continues through time as it introduces 14 types of life that are still with us today. Starting with bacteria (3.8 billion years old) and including mollusks (500 million years old), ants (140 million years old), and coyotes (2.3 million years old), the journey continues to the youngest of species, the "wise humans" or homo sapiens, that have inhabited the Earth for only 100,000 years. An illustrated time line helps bring this massive scale into the realm of children's understanding. Each spread includes a poem, amazing facts, and an exquisite, hand-colored linocut. Sidman uses a variety of poetic structures, including diamante, rhyming couplets, and unrhymed verse, and unexpected language choices to create diverse and vivid word pictures of each species. This melding of science and humor makes for enjoyable reading. The stunning illustrations engage readers and encourage questioning and further exploration. From the depiction of ant tunnels to the surprising perspective of blades of grass, the bold and colorful linocuts are incredibly detailed and successfully capture the essence of each creature as part of its larger environment. A delightful feast for the eyes, ears, and mind.-Carole Phillips, Greenacres Elementary School, Scarsdale, NY (c) Copyright 2010. Library Journals LLC, a wholly owned subsidiary of Media Source, Inc. No redistribution permitted.
(c) Copyright 2010. Library Journals LLC, a wholly owned subsidiary of Media Source, Inc. No redistribution permitted.
Book list *Starred Review* The creators of the Caldecott Honor Book Song of the Waterboatman and Other Pond Poems (2005) offer another winning blend of poetry, science, and art in this picture-book collection that celebrates the earth's most resilient and long-lived species. Following Waterboatman's format, each dynamic spread in this remarkable volume features a poem, a prose paragraph, and a captivating illustration that work together perfectly to reinforce both the science concepts and the awe they inspire. Prange's watercolor-tinted linocut illustrations beautifully expand both the information and imagery in the words, beginning with the endpapers' inventive graphic, a densely wound ribbon that shows where each of the poems' featured organisms first appeared in earth's vast time line. Written in a variety of formats, including a few playful concrete selections, Sidman's poems deftly weave in facts, as in Gecko on the Wall : Her tail comes off: / a wriggling prize! Other poems mimic the movements of their subjects: lines in The Ants follow a short, steady marching beat, while a poem about squirrels consists of a single, frantically paced run-on sentence. Sidman's fascinating prose explanations are as gracefully worded as her verse and will excite young readers. Following a full-page glossary, an author's note discusses the evolutionary nature of science itself.--Engberg, Gillian Copyright 2010 Booklist
From Booklist, Copyright © American Library Association. Used with permission.