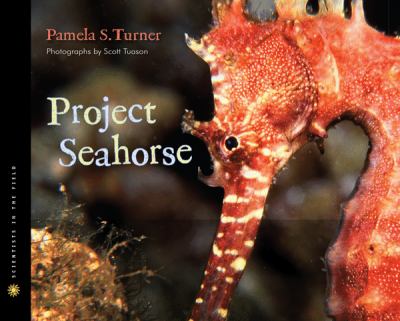 Project Seahorse
by Pamela S. Turner


School Library Journal Gr 4-8-Project Seahorse follows the work of two dedicated scientists as they explore the life cycle of the tiger tail seahorse and forge partnerships with the people of Handumon in the Philippines to save its habitat. A full-page color map places the islands in their global context and shows the range of seahorses, animals that scientists know little about. The stunning full-color photographs amplify the descriptions of the creatures' life cycle as the male receives the eggs from the female and nurtures them to maturity in his brood pouch. Dangers to their survival appear not only from marine predators but also from unsustainable practices such as blast-fishing and bottom trawling, two techniques that damage and destroy coral reefs. By showing the scientists at work with local villagers and leaders as well as regional and national government representatives, the author stresses the importance of community-based conservation. The photographs of village children replanting mangrove trees and posing on the Project Seahorse boat reveal how involved the local people became. This book is a great addition to any collection and perfect for seahorse, coral reef, or marine-conservation assignments.-Frances E. Millhouser, formerly at Chantilly Regional Library, Fairfax County, VA (c) Copyright 2010. Library Journals LLC, a wholly owned subsidiary of Media Source, Inc. No redistribution permitted.
(c) Copyright 2010. Library Journals LLC, a wholly owned subsidiary of Media Source, Inc. No redistribution permitted.
Book list The latest Scientists in the Field entry continues the series' consistently successful approach to giving young enquirers a close look at the natural world and those who study it. Noting that the more than 40 species of sea horse worldwide are all threatened by overfishing and other factors, Turner balances her observations of two biologists who have been instrumental in setting up a Marine Protected Area (MPA) along part of a reef in the Philippines with a profile of one local fisherman and his family who are dependent on the reef's wildlife for their livelihood. Thanks to the fluent, information-rich narrative and to Tuason's engagingly up-close color photos of both human divers and of sea horses and other reef denizens, readers will come away with a much clearer understanding of the sea horse's distinctively oddball biology and also of how one conservation success story hinged on cooperation between scientists and concerned local residents. A perfunctory resource list is the only weakness here.--Peters, John Copyright 2010 Booklist
From Booklist, Copyright © American Library Association. Used with permission.