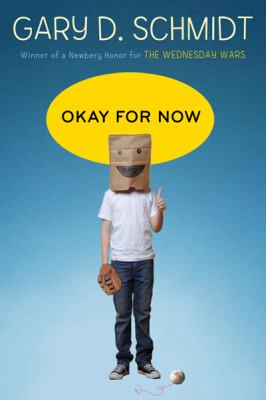 Okay for Now
by Schmidt, Gary


School Library Journal Gr 6-9-When his blowhard dad loses his job, Doug Swieteck has to say so long to his friend Holling and Camillo Junior High and get used to things in stupid Marysville, NY. His oldest brother's in Vietnam, his middle brother's still a hoodlum, his mom is quiet but enduring, and his only salvation is weekly visits to the public library, where the librarian is teaching him to draw by using models from a volume of Audubon's Birds of America. Also not too bad is Lil, the daughter of the grocer who gives him a delivery job. Fans of The Wednesday Wars (Clarion, 2007) will find that this companion novel has more in common with it than just a charismatic narrator and pitch-perfect details of daily life in the 1960s. In addition to a mix of caring adults and comically unreasonable authority figures, Schmidt also revisits baseball, theatrical escapades, and timely preoccupations like the Moon landing and the Vietnam War. But Doug's blue-collar story is much darker than Holling's in the earlier novel, and, as a narrator, he's more psychologically complex. Readers know right upfront that his father is abusive, but for a while Doug keeps the depth and magnitude-among other secrets-hidden from those around him. He grows to realize a lot about his family's relationships through study of Audubon's painted birds (one plate is featured at the start of each chapter), and the volume itself becomes a metaphor for his journey from fragmented to whole self. Schmidt manages a hard balance of relatable youth-is-hard humor and nuanced family trauma, though the mix of antics and realism is a bit Shakespearean. Readers will miss Doug and his world when they're done, and will feel richer for having experienced his engaging, tough, and endearing story.-Riva Pollard, Prospect Sierra Middle School, El Cerrito, CA (c) Copyright 2011. Library Journals LLC, a wholly owned subsidiary of Media Source, Inc. No redistribution permitted.
(c) Copyright 2010. Library Journals LLC, a wholly owned subsidiary of Media Source, Inc. No redistribution permitted.
School Library Journal Gr 6-9-A forced move from Long Island to upstate New York in the late 1960s leaves Doug Swieteck on his own to deal with his reprehensible dad and bad-boy older brothers. His salvation comes largely from kind strangers who help to nurture his talents and his humanity. Schmidt's masterful characterization and balance of humor and pathos make this coming-of-age novel so memorable. (Apr.) (c) Copyright 2011. Library Journals LLC, a wholly owned subsidiary of Media Source, Inc. No redistribution permitted.
(c) Copyright 2010. Library Journals LLC, a wholly owned subsidiary of Media Source, Inc. No redistribution permitted.
Book list *Starred Review* In this stand-alone companion to The Wednesday Wars (2007), a Newbery Honor Book set in the late 1960s, Schmidt focuses on Holling Hoodhood's classmate Doug Swieteck, who is furious when his volatile father gets fired and moves the family to tiny Marysville, New York. Eighth grade gets off to a rocky start, particularly after Doug's brother is blamed for a series of local break-ins, and Doug, too, is viewed with suspicion. Life at home with his hard-drinking dad is rocky as well, especially after Doug's second brother returns from Vietnam without his legs. In addition to brief character references, this title shares much with The Wednesday Wars. Here, John James Audubon's portraits of birds, rather than Shakespeare's plays, provide a cultural awakening, and once again, Schmidt skillfully makes a reluctant boy's connection with the works a plausible and moving catalyst for strength and growth. Schmidt stretches credibility with another wish-fulfilling ending, but readers will likely forgive any plot contrivances as they enjoy Doug's distinctive, rhythmic narration, inventively peppered wit. stat. about his life, which reveals hard, sometimes shocking truths about the time period and, most of all, Doug's family. Delivered in a wholly believable voice, Doug's euphemisms are heartbreaking and authentic, as when he describes his dad's violence. He has quick hands. Reproductions of Audubon plates introduce each chapter in this stealthily powerful, unexpectedly affirming story of discovering and rescuing one's best self, despite family pressure to do otherwise.--Engberg, Gillia. Copyright 2010 Booklist
From Booklist, Copyright © American Library Association. Used with permission.
Publishers Weekly This companion to The Wednesday Wars follows the formula of Schmidt's Newbery Honor winner with less success. Doug Swieteck, a prankster in the previous book, has graver problems than Holling Hoodhood did, making the interplay of pathos and slapstick humor an uneasy fit. In summer 1968, the Swietecks leave Long Island for the Catskills, where Doug's father has found work. Doug's mother (like Holling's) is kind but ineffectual; Mr. Swieteck is a brutish jerk. His abuse of his three sons, one of whom is currently in Vietnam, happens mostly offstage, but one episode of unthinkable cruelty is recounted as a flashback to explain why Doug refuses to take off his shirt in gym class. Doug does make two key friends: Lil, whose father owns the deli for which Doug becomes delivery boy, and the less fleshed-out Mr. Powell, a librarian who instantly sees Doug's potential as an artist. There are lovely moments, but the late addition of an implausible subplot in which Lil, who has never shown an interest in acting, is drafted for a role in a Broadway play, seems desultory considering the story's weightier elements. Ages 10-14. (Apr.) (c) Copyright PWxyz, LLC. All rights reserved.
(c) Copyright PWxyz, LLC. All rights reserved