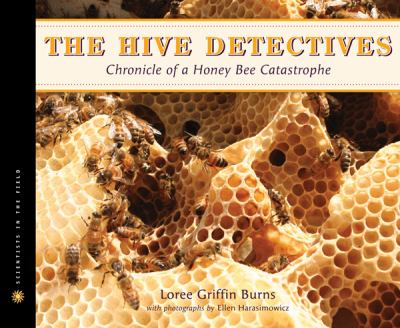 The Hive Detectives
by Loree Griffin Burns


School Library Journal Gr 5-8-The mystery of the vanishing honeybees began in the winter of 2006 when beekeeper Dave Hackenberg inspected 400 of his 3000 hives in Florida and discovered that 20 million bees had simply disappeared. He frantically alerted state bee inspectors and other beekeepers that there was some strange new ailment affecting these insects and asked for help in finding the cause. Soon beekeepers across the country were reporting similar catastrophes. Most of this lucid, fact-filled introduction focuses on the investigation into the problem, now known as "colony collapse disorder," or CCD. Separate chapters cover each of four scientists' line of research and describe their procedures, key tools, equipment, and findings. While no definitive cause for CCD has yet been found, the researchers theorize that the disorder is caused by a combination of the usual bee ailments, the chemicals used to treat them, and a new systemic pesticide employed by farmers. Other chapters include interviews with a hobbyist beekeeper and Hackenberg; they are packed with information on beekeeping and stress the importance of bees as pollinators. Special feature pages profile the scientists and describe the physical and behavioral characteristics of honeybees; hive construction; the making of honey, etc. Clear color photographs of beekeepers, scientists, equipment, close-ups of bees, hives, etc., complement the text on every page. Youngsters concerned with the environment will find this meticulously researched title a valuable resource.-Karey Wehner, formerly at San Francisco Public Library Copyright 2010 Reed Business Information.
(c) Copyright 2010. Library Journals LLC, a wholly owned subsidiary of Media Source, Inc. No redistribution permitted.
Book list *Starred Review* The author of Tracking Trash (2007), Burns now spotlights a dream team of scientists as they work to determine what is threatening bee colonies and (by extension) agriculture, which depends on bees for pollination. After following hobbyist beekeeper Mary Duane as she inspects her hives, the discussion turns to a commercial beekeeper who reported in 2006 that 20 million bees had vanished in a mysterious and deadly phenomenon now known as colony collapse disorder (CCD). Fully illustrated with excellent color photos, the clearly written text introduces four scientists and follows them from the field to their labs as they investigate possible causes of CCD: pesticides, viruses, bacteria, and pests such as mites. The book demonstrates the urgent need for answers, the challenges of the scientists' ongoing research projects, and the importance of investigating a variety of possibilities. In the final pages, beekeeper Duane harvests honey from her healthy bees' hives. Throughout the presentation, readers learn about the anatomy, development, and social behavior of honey bees and observe the process of scientific investigation and its vital, real-world application. Appended are lists of recommended books, magazines, films, and Web sites as well as a glossary and a source bibliography. A fascinating book from the Scientists in the Field series.--Phelan, Carolyn Copyright 2010 Booklist
From Booklist, Copyright © American Library Association. Used with permission.