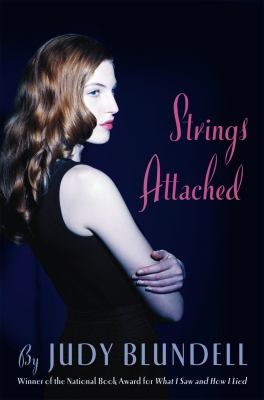 Strings Attached
by Blundell, Judy


Book list Blundell, a National Book Award winner for What I Saw and How I Lied (2008), returns to themes of lies and secrets and this novel has plenty. It's 1950, and 17-year-old Kit Corrigan has left Providence, Rhode Island, for the bright lights of New York, where she intends to make it as a dancer. When her estranged boyfriend's father, Nate, offers her an apartment and arranges a job for her as a Lido girl, Kit doesn't understand all the ramifications. Sure, Nate wants news of his son, Billy, when Billy comes home from the army on leave, but though Kit knows Nate's involved with the mob, she doesn't foresee how all that can touch her. Oops. There's really not much of the teen about Kit she could be 21 as easily as 17 but her voice neatly propels the action, even through the occasionally annoying back-and-forthing in time. One part Jackie Collins novel, one part melodrama (had this been a 1950s movie, Douglas Sirk would have been perfect to direct), and all Blundell, this book is hard to put down.--Cooper, Ilene Copyright 2010 Booklist
From Booklist, Copyright © American Library Association. Used with permission.
School Library Journal Gr 7 Up-November 1950 in New York City: a time and place in which everything changes for Kit Corrigan. After dropping out of high school in Providence to pursue dancing and acting, a breakup with Billy Benedict, a college boy and the son of a powerful mob lawyer, propels her to the Big Apple. A fraternal triplet whose mother died in childbirth, Kit has been raised by a working-class father with the sometime help of his sister, Delia. Her brother, Jamie, and Billy have enlisted in the Korean War. In New York, Kit's talent and gorgeous red hair help land her in the chorus of a quick-to-close Broadway show. Her money is disappearing when Mr. Benedict shows up to dangle a carrot she can't ignore: a cozy apartment and an audition to be a Lido Doll. Is it so much just to tell him when she hears from Billy, help with the occasional package, and chat with certain men who frequent the Lido? Goings-on at the club get increasingly sinister, Kit's neighbors are being persecuted as Reds, and somehow Aunt Delia's disappearance is linked to the teen's current New York life. Evoking the glamour, grit, and gusto of the era, Blundell has produced a compelling narrative with well-crafted characters who bring different ambitions, fears, and memories toward tragic collisions. Circling back and forth through the years of Kit's life, readers dip into her Great Depression childhood, her family's bootlegging past, and the stark revelations of the adult world.-Suzanne Gordon, Lanier High School, Sugar Hill, GA (c) Copyright 2011. Library Journals LLC, a wholly owned subsidiary of Media Source, Inc. No redistribution permitted.
(c) Copyright 2010. Library Journals LLC, a wholly owned subsidiary of Media Source, Inc. No redistribution permitted.
Publishers Weekly The New York City mobster scene during the 1950s is vibrantly brought to life in this saga of a poor dancer who pays a high price for the breaks she gets. When the story opens, 17-year-old Kit Corrigan has left her Providence, R.I., family for the lights of Broadway and still has mixed feelings about her hotheaded ex-boyfriend, Billy, who has since joined the army. Then Kit receives an offer she can't refuse: become a snoop for Billy's gangster father in exchange for a much-needed Manhattan apartment and a nightclub gig. Kit almost immediately regrets her decision but is unable to prevent a future tainted by heartache, deception, and murder. Past tragedies suffered by Kit and her Irish-American family are artfully woven into the plot; if the book is a little slow-moving at first, National Book Award-winner Blundell (What I Saw and How I Lied) successfully constructs a complex web of intrigue that connects characters in unexpected ways. History and theater buffs will especially appreciate her attention to detail-Blundell again demonstrates she can turn out first-rate historical fiction. Ages 13-up. (Mar.) (c) Copyright PWxyz, LLC. All rights reserved.
(c) Copyright PWxyz, LLC. All rights reserved